Michael Pitfield (BCL'58), a former Senator and Clerk of the Privy Council, has died at the age of 80. Pitfield was a longtime civil servant who played a key role in the repatriation of the Constitution in 1982. He died of Parkinson's Disease on Oct. 19, at the age of 80.
Pitfield was born in Montreal in 1937. Noted for his great intellect, he completed his university entrance requirements at just 14, but he was too young for admission to a Canadian university. Undaunted, Pitfield enrolled at St. Lawrence University in Canton, New York, from which he graduated with a B.A.Sc. in 1955. He then entered the Faculty of Law at McGill, obtaining a Bachelor of Civil Law degree (B.C.L.) in 1958.
Pitfield joined the Public Service soon after graduating from McGill and rose to occupy its highest office as Secretary to the Cabinet and Clerk of the Privy Council, the most senior post in the federal public service, in 1975. Just 37 at the time of the appointment, Pitfield was the youngest Canadian ever to occupy this position. During his tenure, he spearheaded the modernization of the public service while helping the government navigate the turbulent economic waters of the 1970s.
A strong proponent of bilingualism and national unity, Pitfield is most widely recognized for his crucial role in the repatriation of the Canadian Constitution and the establishment of the Charter of Rights and Freedoms in 1982. When Prime Minister Pierre Elliot Trudeau and Queen Elizabeth signed the 1982 Constitution in Ottawa, pictures show Pitfield standing directly beside the Queen – a sign of how important a role he played in the process.
Pitfield joined the Senate in 1982 and sat as an independent until his retirement in 2010.  "I believe that service to our nation is the highest privilege that a Canadian can undertake, and for fifty years I have striven to serve Canada as a senior public servant and Senator," said Pitfield upon his retirement. "In my roles as Secretary to the Cabinet, Clerk of the Privy Council, and as an Independent Senator, I have sought to engage Canadians with public policy, and have worked to improve Canadians' understanding of and access to, our federal government."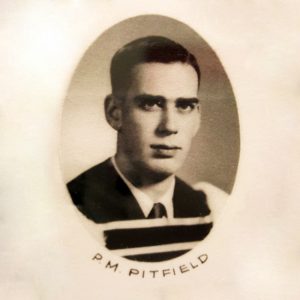 In announcing Pitfield's death yesterday, Prime Minister Justin Trudeau praised the former Senator for a legacy that was both "far-reaching" and "enduring."
"He was a tireless advocate of bilingualism and national unity whose leadership helped bring us closer as a country and make our democracy uniquely our own," Trudeau said.
Pitfield was a longtime confident of Pierre Trudeau, consulting with the Prime Minister on most major files during the 1970s and 80s. But his relationship with the Trudeau family extended beyond the chambers of Parliament.
"On a personal level, I will remember Michael as a family friend, who was especially dear to my father and our family," said Prime Minister Trudeau yesterday.