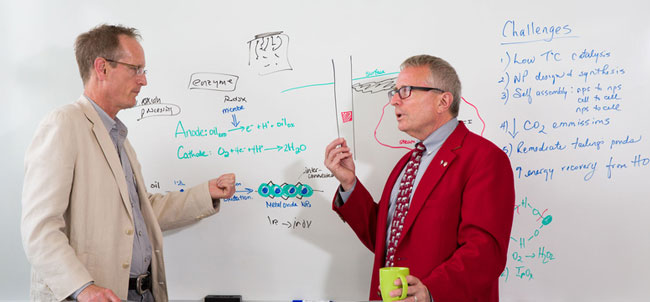 Nanotechnology expert Steven Bryant hosts green chemist Robin Rogers to discuss innovative and sustainable solutions for industry
By Andrea Kingwell
What does making plastics from tree bark and bandages from shrimp shells have to do with sustainable energy? They are all examples of how a few of Canada's leading scientific minds are pushing advances in new, engineered materials.
One of the most rapidly advancing areas of science, the use of new materials to solve big industry problems was the subject of wide-ranging discussions over several days recently between two of Canada's science leaders, Canada Excellence Research Chairs (CERC) Steven Bryant and Robin Rogers.
The conversation began in April when Rogers and Bryant attended the annual CERC summit in Waterloo. The CERC program brings global leaders in research to Canada — so the summit is a who's who in discovery across the country. While at the summit, Bryant, an internationally acclaimed nanotechnology engineer, took in a lecture by McGill's Robin Rogers on ionic liquids and green chemistry, and Rogers was intrigued by Bryant's discussion of the scale and the nature of the challenges of the oilsands.
Instantly the seeds of innovation and collaboration were sown.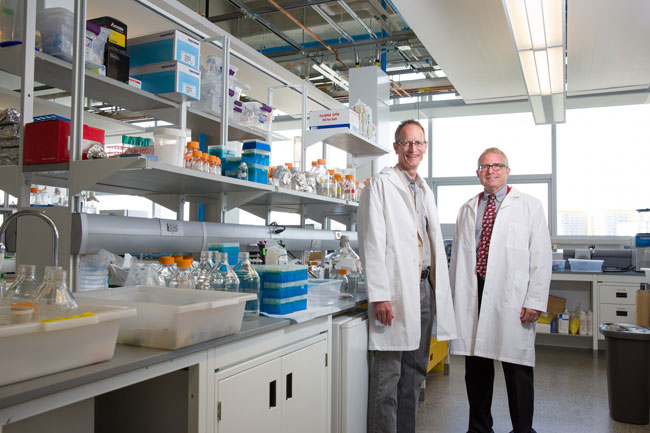 "I'd heard of ionic liquids, but didn't really understand what they were until I heard Robin's presentation," says Bryant, CERC for Material Engineering for Unconventional Oil Reservoirs. "What I learned was there is a lot of common ground: some of things he's doing, the techniques he's using, could really be applicable in dealing with the challenges we are tackling here in terms of heavy oil and bitumen."
"I know very little about the oil industry apart from the societal challenges associated with it," says Rogers, McGill's CERC in Green Chemistry and Green Chemicals. "I think it is a field that would benefit greatly with the application of more green chemistry, but to help, I need to work with someone who knows that sector," says Rogers. "To have an impact, I have to make partnerships with people who are plugged in – people who know the industry; people who understand the challenges; and people who have an established network within the field. Steve is that person."
Researchers at the top of their fields
Recruited as the University of Calgary's first CERC in October last year, Bryant's research focus is on improving the efficiency of in-situ oil recovery in the oilsands using advances in nanotechnology. By developing processes using chemically altered particles that attach differentially to oil and to water and are tiny enough to pass through reservoir pores, Bryant and his team are hoping to use less steam, recover more oil, and reduce — and ultimately eliminate — the carbon footprint of unconventional hydrocarbon extraction.
Rogers, who came to McGill this January, is internationally recognized for his work in designing and developing next-generation sustainable biomaterials. His groundbreaking research has involved ionic liquids, a new class of salts, liquid at room temperature, that have the potential to transform chemical and materials science and industry manufacturing.
Using ionic liquids, Rogers has developed a process that creates renewable plastics from the breakdown of lignin — a polymer found in plants that gives structure to wood and bark and is usually destroyed in the pulp and paper process. Rogers has also discovered a way to use the chitin in discarded shrimp shells to manufacture useful and valuable products like sutures and bandages.
Solutions so compelling, industry embraces more sustainable practices
While Rogers and Bryant are experts in distinct disciplines, they both have an eye on solving global challenges and they share a passion for creating innovative solutions so compelling that industry will enthusiastically embrace more sustainable practices.
Rogers suggests companies are driven by social approval as well as the usual economic factors; Bryant says it's time to move beyond the usual extremes of saying either 'shut it down' or 'ramp it up' to industry. "What we're saying is, let's do things differently to derive value sustainably from these resources."
"Take the Alberta oilsands," says Rogers. "If that technology becomes more efficient and less polluting, it can be competitive on the world market and get us through the next 40 years. It can be that transition source as we go toward solar or electrical or wind technology. It will provide an economic base that will allow us to survive as we convert to newer technologies down the road."
The two researchers left the Waterloo conference anxious to continue their discussion, and to explore the possibility of using ionic liquids to transform the oil and gas industry. They arranged to meet again in Calgary, and over several days in early July they talked about their research interests, the possibility of collaboration, and they discussed their ideas with Bryant's team as well as chemists and engineers across campus.
Knowing that even the best ideas need to be practically applied to make an impact, Bryant and Rogers also share an interest in technology transfer and commercialization. While he was here, Rogers gave a talk on the commercialization of sustainable technology. As well, he and Bryant attended a plenary session at Alberta Innovates Technology Futures, and a Stampede breakfast with representatives from Innovate Calgary.
Taking a collaborative, multidisciplinary approach to untangling grand challenges
"The CERC program brings leaders in science to Canada and then ensures that they connect to chart new pathways to solutions — as Steven Bryant and Robin Rogers are doing. The prospect of what these two leaders in their rapidly advancing disciplines can do together, represents the kind of expansive thinking that will solve our most pressing challenges, including those in energy," says Ed McCauley, vice-president (research).
As they wrapped up their Calgary meeting, Rogers said he didn't want to limit Bryant's imagination by outlining exactly what has already been done with ionic liquids. "The sky is the limit," Bryant says. "The state-of-the-art now is if you can dream it, they can get it done."
The end result of combining Bryant's nanotechnology expertise with Rogers' grasp of ionic liquids is uncharted territory, but both are keen to explore the possibilities and to pursue the partnership.
"Robin has his homework, and I have mine," Bryant says. "We'll see where this can lead and what we do next."
"If you don't work together, you can't really solve these complex problems," says Rogers. "I think a collaboration of this kind has enormous potential."
With files by Neale McDevitt
This article originally appeared in the University of Calgary's UToday online journal.