Richard A. Walls and Carolina J. Walls, Doctors of Science, honoris causa
Kentucky native Richard A. Walls founded and built five companies in the energy business after earning a PhD in Geology from McGill in 1978. An entrepreneurial leader in the industry, he has been responsible for significant oil and gas discoveries in North America. Carolina Walls, originally from Chile, came to McGill by way of New Brunswick, receiving her BSc in Psychology in 1985. She then attended the University of Alberta Law School and practiced primarily in the areas of immigration and refugee law.
Richard and Carolina Walls have maintained strong ties with their alma mater. The couple first raised funds to support the T. H. Clark Chair in Sedimentary and Petroleum Geology in memory of the iconic paleontologist and geologist who taught at McGill until the age of 99. Again thanks to their generosity, McGill established, in 2008, the scholarship program "Best in the West", that assists students from British Columbia, Alberta and Saskatchewan enrolling at McGill. Richard and Carolina Walls also support many causes and organizations in Alberta and Calgary, their long-time home.
Mike Babcock, Doctor of Laws, honoris causa
A former co-captain of the McGill Redmen hockey team, Mike Babcock (BEd '86) is known worldwide for coaching winning teams, whether it is in the National Hockey League as Head Coach of the Detroit Red Wings or on the international stage. Since he began his coaching career in the NHL, his teams have won more regular season and playoff games than any other team in the league. Mike Babcock is the only coach among the members of the prestigious Triple Gold Club, having won the World Championships in 2004, the Stanley Cup in 2008, and an Olympic gold medal in 2010.
Above all, Mike Babcock's name is synonymous with the achievement of excellence, the subject of his 2012 book, Leave No Doubt, highlighting the theme that one cannot accomplish great things without facing great adversity and making peace with uncertainty. For over a decade, Mike Babcock has brought this message on countless visits to children's hospitals where he spends time getting to know cancer patients and their families.
Nathalie Bondil, Doctor of Letters, honoris causa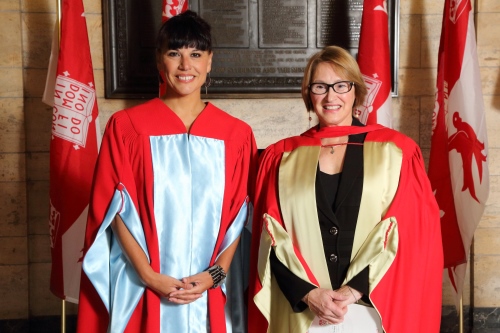 Nathalie Bondil is the Montreal Museum of Fine Arts' (MMFA) chief curator and director. Under her leadership, the MMFA has expanded traditional ideas of art, staging the world's first retrospectives of fashion designers such as Yves Saint Laurent, Denis Gagnon and Jean Paul Gaultier. She also brought music into the museum with multidisciplinary celebrations of Andy Warhol, John Lennon, Yoko Ono and Miles Davis, as well as the current Splendore a Venezia: Art and Music from the Renaissance to Baroque in the Serenissima. Ms. Bondil holds degrees in art history from the École du Louvre and the Institut national du patrimoine, Paris.
Boris Brott, Doctor of Music, honoris causa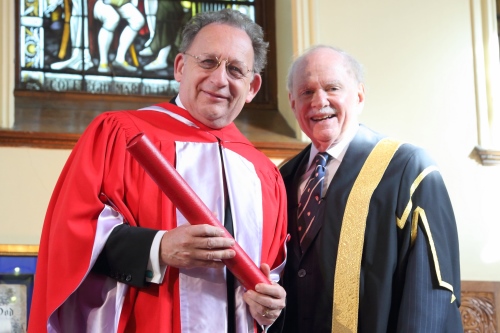 Boris Brott is a symphony conductor, the artistic director of the McGill Chamber Orchestra and a motivational speaker. He has a 50-plus year history of promoting artistic development, founding the Philharmonic Youth Orchestra of Montreal as a teenager and, more recently, founding the National Academy Orchestra, Canada's only professional training orchestra for graduate musicians. Mr. Brott has also pushed classical music performances in unexpected directions, by bringing ballet dancers and astronauts to the stage and moving the orchestra itself to the heart of a steel factory blast furnace. In 1992, the maestro went back to school, studying law at the University of Western Ontario. He has since built a second career, using his musical expertise to teach Fortune 500 executives about corporate creativity and team communication.
Kaija Saariaho, Doctor of Music, honoris causa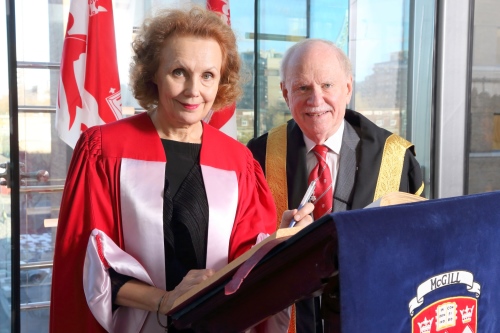 Kaija Saariaho was born in Helsinki and studied violin and piano at the Sibelius Academy, before pursuing further studies in Freiburg and at IRCAM in Paris. Most critics cite spectral music composers Gérard Grisey and Tristan Murail as her largest influences. Her work in the 1980s and 1990s is marked by its emphasis on timbre and use of electronics alongside traditional instruments; Nymphéa (Jardin secret III) (1987), for example, is for string quartet and live electronics. She has won the Prix Italia and, in 1989, the Prix Ars Electronica; received commissions from the Lincoln Center for the Kronos Quartet and from IRCAM for the Ensemble Intercontemporain. She has also been the subject of a pan-European collaborative project to produce a CD-ROM Prisma about her work. She was awarded the title of Musician of the Year 2008 (announced by Musical America, the US publishing company for performing arts) for being "among the few contemporary composers to achieve public acclaim as well as universal critical respect".