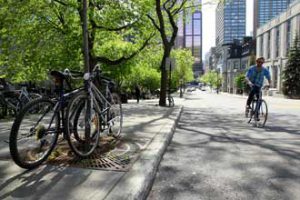 By Jim Hynes
It's an initiative that has involved complex planning, extensive negotiations with the Ville-Marie borough, and a mind-boggling level of logistics to manage. But come next Friday, May 28, it will all have been worth it. McTavish Street, between Sherbrooke Street and Dr. Penfield, will officially be a pedestrian zone.
A by-law that will allow the urban space on McTavish to be turned over to the McGill and local Montreal communities was approved at a Ville-Marie borough council meeting last week. As of May 28, parking will be eliminated, vehicular traffic substantially reduced and deliveries restricted to between 7 and 11 a.m. Emergency vehicles will continue to have full access to the street. Vehicles transporting people with disabilities and local residents will continue to have access via McTavish to the public lane located between the Bronfman Building and the University Bookstore.
"I'm very, very happy we pulled it off," said former McGill Board of Governors Chair Robert Rabinovitch, who has been a strong proponent of the Lower Campus plan for many years, after he had seen something similar at one of his alma maters, the University of Pennsylvania. "I saw the unique effect it could have in expanding and creating an oasis downtown.
"Our problem, as we grow and expand, is to make sure that we don't become a 'concrete campus,' " he said, "but that we give people a place and a chance to relax and study."
Rabinovitch said a confluence of factors has brought McGill and the city to the point where the project could proceed, not the least of which is a significant change in public attitudes about the relative merits of automobiles versus public transit and bicycles. "The world has changed," since the proposal to clear the lower campus of cars and close McTavish was first advanced, he said. "I'm very happy."
The creation of a pedestrian zone on McTavish is complementary to McGill's Greening Lower Campus initiative, designed to enhance the University's natural environment, increase green space, decrease paved areas, improve landscaping, minimize motorized vehicles on the lower campus – and ultimately create a pleasant, green oasis within the downtown urban core.
But the new initiative is about more than just being green, says Jim Nicell, Associate Vice-Principal (University Services). "It's about enhancing our Lower Campus. It's about creating a safer area for pedestrians. There's been a long-term problem having bicycles, pedestrians and vehicles on the campus in heavily trafficked areas.
So it's about trying to resolve those issues and trying to create a safe and green space for people in our community. It's also about taking back some of the campus from the vehicles and creating that social environment where people can have the opportunity to connect, share ideas and enjoy a refuge from the larger urban environment."
For the dream of a vehicle-free refuge to become reality it required more than two years of hard work from the planning group charged with overseeing the project. Representatives of University departments like Campus and Space Planning, Parking Services, Procurement Services, Security Services, the Office of Sustainability, Public Affairs and many more, including some McTavish Street users like the McGill Bookstore, worked together to deal with everything from discussions with local residents and the distribution of parking permits, to planning the logistics of snow and garbage removal.
"All of this was ultimately the result of an amazing spirit of collaboration and a shared vision that has developed between the borough and McGill," said Nicell.
The preparation and landscaping work to transform McTavish into a pedestrian street is already under way. Metered parking is no longer available and public vehicle access is being phased out. McGill personnel continue to work with building occupants in the area to establish delivery procedures for the University buildings located on the street. Others are busy installing barriers, flowerpots and benches. City workers, meanwhile, have installed new signs officially designating McTavish a "rue piétonne."
Growing pains are to be expected, Jim Nicell says, as both members of the McGill community and local residents get used to the changes.
"People are used to full, open access for vehicles on the lower campus, whether it's for taxis or deliveries, or somebody to be dropped off," he said. "What we're now doing is making it a little more difficult for them to what they are used to. There will be growing pains, but I am confident they will pass as people get used to the new reality. A few years from now, when we all look back on this, I think we'll be able to agree that we did the right thing."
A special event will celebrate the transformation of McTavish Street on May 28. Final details will be available soon. To find out more about what's changing on May 28, as well as further details on the Greening of Lower Campus, visit www.mcgill.ca/masterplan/lowercampus.