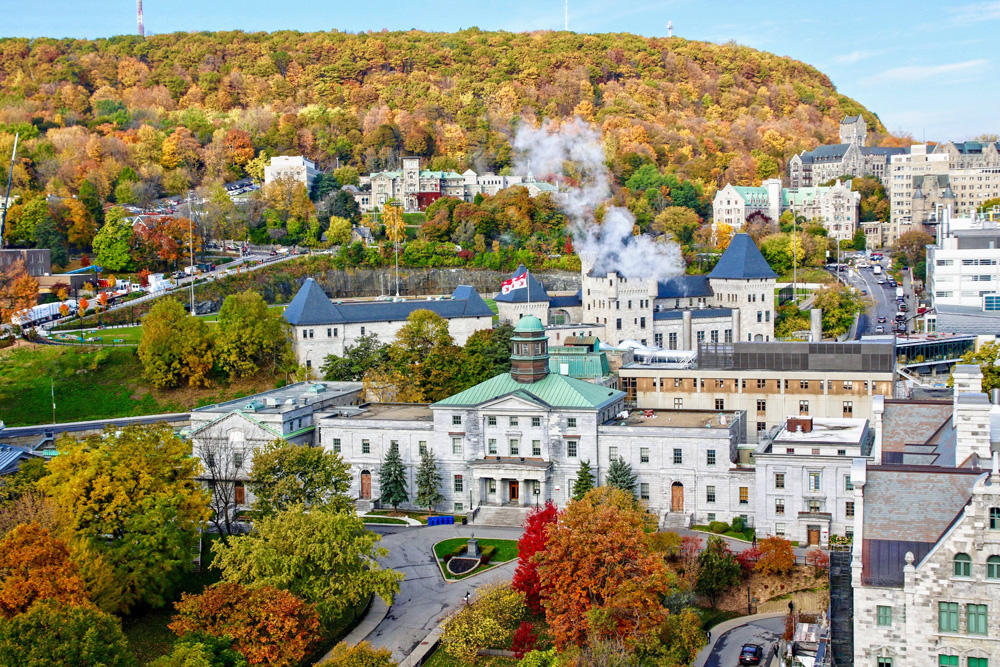 Running any successful operation – be it a business, a research institute or an NGO – requires meticulous planning. This is especially true of an institution the size and scope of McGill, which occupies an 80-acre downtown campus and the 1,600-acre Macdonald Campus; maintains over 100 buildings (many of which are of significant historical value); and has a community of some 50,000 students, staff and faculty members.
For the past decade, McGill's physical growth and infrastructure projects have been guided by the McGill University Physical Master Plan Planning and Design Principles that were approved in 2008. Changing requirements and an evolving global environment dictate that the Master Plan needs to be updated. McGill's Campus Planning and Development Office (CPDO) is leading the development of a new Master Plan for the downtown and Macdonald campuses.
"The Master Plan is the blueprint for the future of McGill, short, medium and long term," says Cameron Charlebois, Executive Director, CPDO. "It establishes the framework, policies and direction for the physical development of transportation, landscape, buildings and space quality to best support McGill in realizing its mission. As McGill evolves, the Master Plan ensures that its development will further augment research and learning experiences; reinforce the University's strategic and academic goals; and enhance where and how students, faculty and researchers, learn and interact."
In November 2018, the CPDO invited members of the McGill community to participate in thematic working groups about the Master Plan and sustainability, communal space and accessibility, and teaching and learning space.
The top themes emerging from those discussions were:
Governance: Ensure policies are in place to enable the implementation of the Master Plan.
Green space: Protect and improve existing natural heritage and optimize its added-value.
Connectivity: Strengthen physical and digital inter/intra campus connectivity.
Health and wellness: Plan spaces that promote physical and emotional/social wellness.
Flexibility: Create spaces that can accommodate multiple usages through their design, furniture and technological equipment
Heritage protection: Exercise responsible stewardship of heritage buildings with resources available.
Sustainability: Strengthen our capacity for climate change mitigation and adaptation through campus planning, operations, infrastructure and various initiatives that allow for a circular use of campus resources
Communal space: Communal space is an important aspect of life on campus and should be encouraged and protected
Teaching and learning: Classroom, laboratories and other teaching and learning space must be adequately equipped technologically
Next, the CPDO will take its show on the road. The Office has created a mobile display that explains the Master Plan's objectives and priority initiatives for the downtown campus, including the former site of the Royal Victoria Hospital, and the Macdonald campus. The mobile display will rotate through seven locations in late January and early February:
Trottier Building mezzanine: Mon., Jan. 28, 11:30 a.m.-2:30 p.m.
Bishop Mountain Hall lobby: Mon., Jan. 28, 6-8 p.m.
McConnell Engineering lobby (facing Dispatch): Tues., Jan. 29, 11:30 a.m.-2:30 p.m.
McLennan Library (near circulation desk): Wed., Jan. 30, 11:30 a.m.-2:30 p.m.
Leacock Building (south hallway, facing Porter's office): Thurs., Jan. 31, 11:30 a.m.-2:30 p.m.
McIntyre Building (inside Pine Ave. entrance): Fri., Feb. 1, 11:30 a.m.-2:30 p.m.
Macdonald Stewart Foyer (Macdonald campus): Tues., Feb. 5, 11:30 am-2:30.
[Editor's Note: Because of the inclement weather on January 24, the event at Macdonald Campus has been rescheduled for February 5 (see above)].
As well, the CDPO will host two community briefings that are open to all students, staff and faculty. These information sessions will be held on:
Thursday, January 31 (12:30-1:30) downtown campus (McLennan Library Research Commons)
Friday, Febraury 15 (12:30-1:30) Macdonald campus (Faculty Lounge)
[Editor's Note: Because of the inclement weather on January 24, the event at Macdonald Campus has been rescheduled for February 15 (see above)].
Most importantly, the CPDO is looking for further input from members of the McGill community. Students, staff and faculty are being asked to answer a short online questionnaire (until Feb. 6).
"We hope that the mobile displays and the community briefings will provide people with a general understanding of what the Master Plan is and it's importance to McGill," says Charlebois, who says that current students can help plan the legacy that they'll leave for future students. "From there we encourage all members of the McGill community to take the time and fill out the questionnaire. McGill is our university. Everyone has a stake in its future."
Answer the online questionnaire