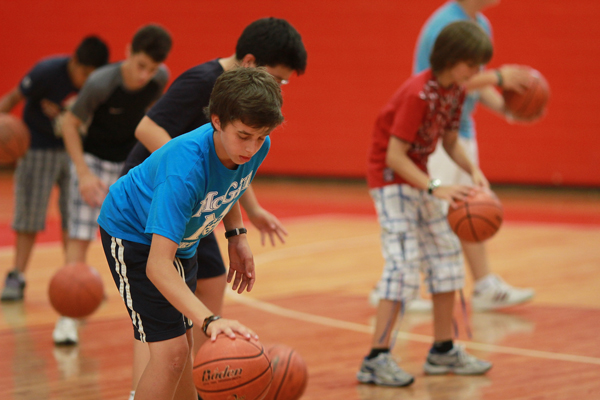 By Neale McDevitt
For working parents of school-age children, the beginning of February means only one thing – time to start worrying about what to do with the kids for March break.
Well, if your child is between the age of 8-16 and likes basketball, you should consider the McGill March Break Basketball Camp. In its second year, the Camp runs from March 3-7.
"As a parent, I've been through the whole 'What am I going to do with my kid during the break?' thing myself," said Perry Karnofsky, Manager, Campus Recreation. "When the University changed its March break schedule to align with the school system's March break, we were approached by our basketball coaches who asked if they could get involved."
And so the camp was born.
Using the very successful McGill Sports Camp as a template, the five-day basketball camp is run entirely by varsity coaches and athletes from both the Martlet and Redmen basketball program.
David DeAveiro, head coach of the Redmen basketball team was recently appointed to coach the national under-16 team for 2013 and in September 2012, coached at the Nike NBA Americas team camp. He also guided the Canadian national cadet team to a fifth-place finish at the 2012 FIBA under-17 world championships.
Ryan Thorne, head coach of the Martlet basketball team is a three-time winner of the Quebec university Coach of the Year award. In his 11th season at the helm of the Martlet program, Thorne also coached the Quebec Provincial team from 2006-2012.
"The quality of coaching kids will receive is second to none," said Karnofsky. "They'll all leave here better players at the end of the week."
The camp runs from 8 a.m. to 4 p.m., Monday to Friday and costs $280 for the week (which includes lunch). Morning sessions focus on developing various individual skills, such as ball handling, shooting and footwork. In the afternoon, campers will work on game strategies and team concepts. Other activities include mini games, video analysis and an introduction to dryland training. "Children aren't going to be lifting heavy weights, but they will be shown how to do some core exercises," said Karnofsky. "The kind of strength and conditioning exercises that will help later on."
For more information and to register, go here.