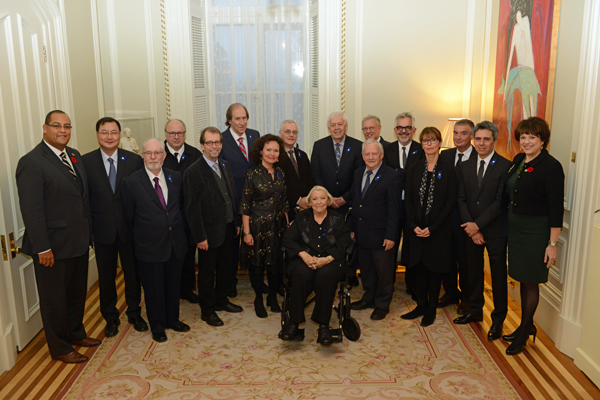 By Meagan Thurston
Two renowned McGill researchers were among the 14 winners of the 2014 Prix du Québec handed out on Nov. 4. Professor Michael Meaney, acclaimed for his achievements in the biology of child development, was awarded the Wilder-Penfield prize. Professor Paul Lasko, a celebrated developmental biologist, received the Armand-Frappier award. The Prix du Québec is considered the most prestigious award attributed by the Government of Québec in cultural and scientific fields.
"McGill is tremendously proud of Professors Lasko and Meaney and grateful that their remarkable achievements in research are rewarded with the Prix du Québec," said McGill Principal and Vice-Chancellor Suzanne Fortier. "Their contributions have significantly advanced our understanding of gene expression and genetic pathways, processes essential for all life and for improved health outcomes among the most vulnerable."
Prof. Lasko's research on how RNA binding proteins and translational control mechanisms drive cellular processes in developmental biology has seeded major new areas of scientific inquiry, including insight on the biology of stem cells. He has produced over 100 publications and has been cited over 11,000 times. Prof. Lasko is the Scientific Director of the CIHR Institute of Genetics.
"I was very proud to hold this prize that is named after Armand Frappier, who made such impressive contributions to the growth of medical research in Québec and to the improvement of public health," said Prof. Lasko.
Prof. Michael Meaney, who is also a researcher at the Douglas Mental Health University Institute, was awarded the Wilder-Penfield prize in recognition of his groundbreaking achievements in the biology of child development. Michael Meaney was the first researcher to identify the importance of maternal care in modifying the expression of genes that regulate behaviour and development among children. He is the Scientific Director of the Ludmer Centre for Neuroinformatics & Mental Health at McGill. Prof. Meaney was also recently awarded the Klaus J. Jacobs Research Prize for his work.
Also among the recipients is McGill alumnus Camil Bouchard, PhD'74, a former Quebec MNA and psychology professor at the Université du Québec à Montréal. Bouchard was awarded the Marie-Andrée-Bertrand prize in appreciation of his groundbreaking work in the field of community psychology, which includes authoring the influential Un Québec Fou de ses enfants report in 1991. The document became an important blueprint for the development of family-friendly social programs that ultimately enhanced the lives of Quebecers.
The Prix du Québec is the most prestigious award attributed by the Government of Quebec in all fields of culture and science. The purpose of this tribute is to recognize the career of women and men who have demonstrated a passion for their calling. Winners are individuals who have stood out for their creative or innovative spirit and whose work has contributed to the influence of Quebec around the world and to the evolution of Québec society in their respective fields.