In the recent Black Law Student Census Report, McGill rates as one of Canada's most inclusive law schools for Black students.
Published by the Black Law Students' Association of Canada (BLSA Canada), the report analyzes 23 Canadian law schools, comparing the percentage of Black students admitted to law programs in 2022 with the percentage of Black residents in the city and province where each law school is located. McGill's Faculty of Law was third best in Canada, with Black students making up 8.40 per cent of its entry-level law program. This exceeds the percentage of Black people living in Montreal (7.93 per cent) and Quebec (4.97 per cent).
"I was delighted to see the result, but the journey is not done," says Robert Leckey (BCL'02, LLB'02), Dean of the Faculty of Law. "We are committed to fostering equitable inclusion at the Faculty and at the University, but that requires constant, deliberate effort. It is promising to see the work we are doing bearing fruit, but there is more work ahead."
Removing obstacles
A key figure in leading McGill Law's recent work is Brittany Williams, the Faculty of Law's Assistant Dean (Students), and the Dean's Lead, Black and Indigenous Flourishing. The creation of this position can be understood as consistent with McGill's commitment in signing onto the Scarborough National Charter on anti-Black racism and Black Inclusion in Higher Education.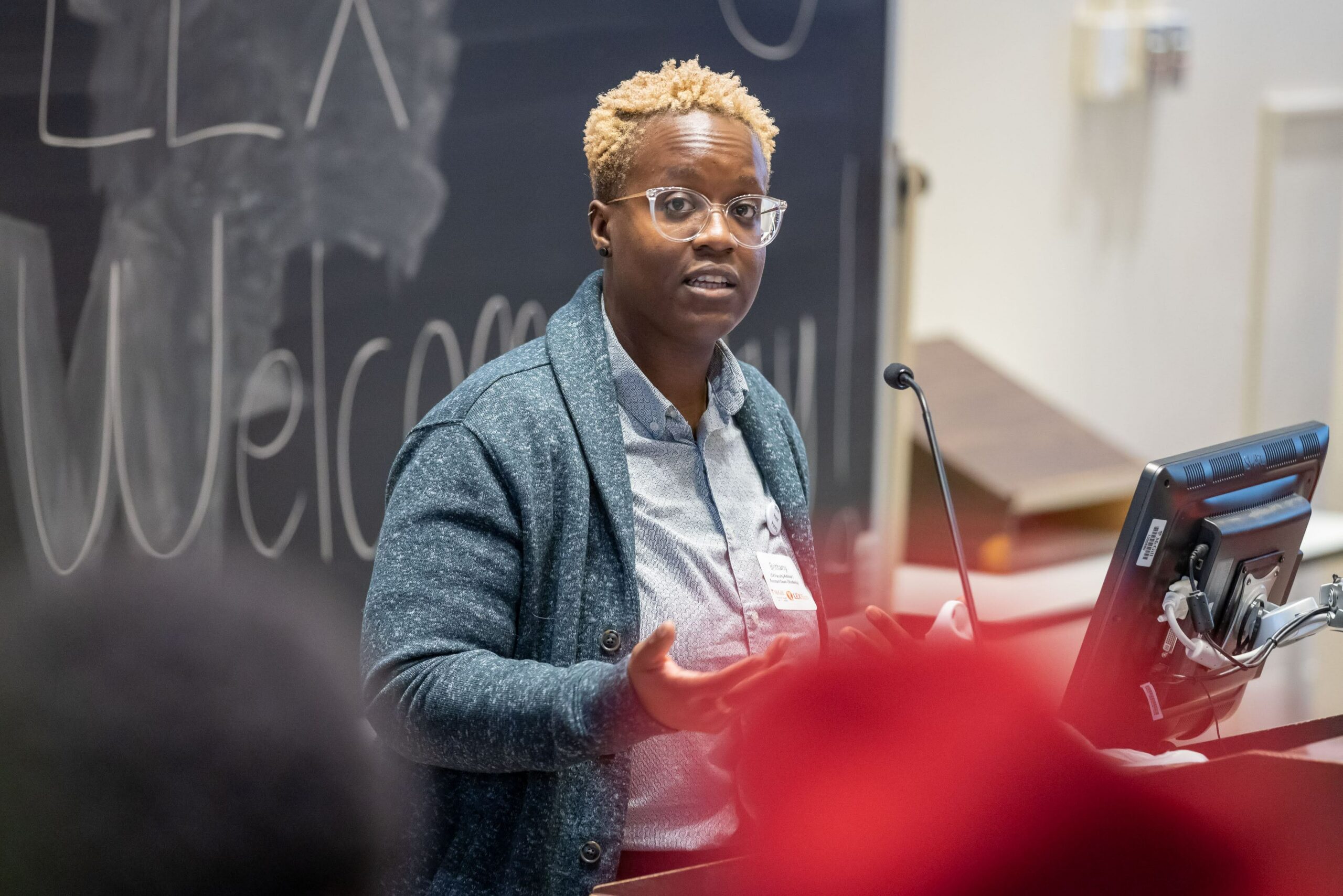 Williams collaborates with the Faculty of Law's Admissions Office – run by Assistant Dean Andra Syvänen (BCL/LLB'14) and current acting Assistant Dean Shadaye Cousins (BCL/JD'22) – and numerous units of student services. She provides direction in the delivery of comprehensive services of advising and other support, promoting the retention and success of Black and Indigenous law students.
"I try to remove the obstacles that you can run into when you're entering a space that was not built for somebody who looks like you or identifies in the same way as you," says Williams.
Williams works closely with the Black Law Students' Association of McGill (BLSAM), an organization long recognized for its invaluable work supporting students. BLSAM organizes lectures, workshops, fundraising events, and mentorship activities led by upper-year students and alumni. Alongside the many dedicated law professors committed to equity – including Professor Adelle Blackett (BCL'93, LLB'93), who has served as BLSAM's faculty advisor – and members of Montreal's Black and legal communities, BLSAM has worked for decades to encourage Black  students to apply to McGill Law and to support them, including by engaged mentorship during their time as students.
Putting McGill Law on the radar
Williams knows firsthand the impact targeted initiatives can have on a young Black student's life. While in high school, she took part in McGill's L.E.X. (Law-Éducation-Connexion) Outreach Program by Davies.
L.E.X. is the outreach program established in 2006 by Charmaine Lyn (BCL/LLB'03) then the Assistant Dean leading the Faculty of Law's Admissions Office. Today, L.E.X. encourages youth belonging to under-represented communities to consider law school and careers in the legal profession through classroom visits, community engagement initiatives, and field trips to the University.
"I didn't want to be a lawyer when I was in high school, but after taking part in L.E.X., it piqued my interest," says Williams. "Suddenly, law – and McGill Law in particular – felt within my grasp."
Williams enrolled in law at McGill and, in 2019, she earned her BCL/LLB.
Holistic admissions process
The BLSA Canada report suggests that schools must re-examine admissions processes and provide an alternative to grades and LSAT scores, which may not account for socioeconomic, cultural, or other barriers.
"As marginalized peoples whose generations have struggled from the reverberations of slavery – in different parts of the world including Canada – and other discriminatory legislative policies, it is important to provide an equitable application process specifically for Black law applicants," says the report.
"The Faculty of Law has for decades had a holistic process, involving substantial involvement by professors in assessing applications for admission. This process and involvement reflect robust faculty commitment to sustaining an inclusive community of learners," says Leckey.
"While some other schools focus on quantitative indicators, we look at all the elements of a student's file," says Williams. "We consider people's GPA and transcript along with their personal statement, CV, and reference letters. Applicants may also let us know about any extenuating circumstances if they see fit."
"We take the time in admissions to make sure the 180 students who enter have shown that they will be enriched by the program we offer, and will also get actively involved in enriching the faculty community," says Williams.
Dedicated funding
The BLSA Canada report also calls for faculties of law to introduce or expand scholarships and bursaries dedicated to aspiring and current Black law students.
Citing the racial wealth gap in Canada, the report states "while law school can be an avenue to economic mobility, students burdened with untenable debt have limited career flexibility and maybe more likely to have poor academic performances or drop out. Working long hours leaves less time for studying, volunteering, and networking. Scholarships and bursaries alleviate these barriers." Quebec's tightly regulated tuition landscape means that the law faculties of McGill and sister universities in the province may be more broadly accessible than those in other provinces.
"Funding can be life changing," says Williams. "It is often the difference between people being able to attend university and not attend."
"Our University Advancement team works hard to make sure that new gifts to support students reflect donors' and the Faculty of Law's commitment to broadening inclusion," says Williams.
These funding opportunities include the Scotiabank Scholarship and Stikeman Elliott Diversity Scholarship for BIPOC students, and the Osler, Hoskin & Harcourt LLP and Dentons LLP scholarship for Black students.
Commitment to justice
"As gatekeepers to the legal profession, the decisions of Canadian law schools largely determined the composition of Canada's future lawyers, judges, and general counsels. Who is or is not admitted into law school directly impacts our justice system," say the authors of the BLSA Canada report. "Moreover, the under representation black people in law schools is a longstanding problem that starts before Black students set foot in law schools. Law schools with no holistic admissions processes or limited recruitment or outreach in racialized communities create environments conducive to the under representation of racialized law students."
For Leckey it comes down to McGill's responsibility to serve, and reflect, the community that it supports it. The Faculty's commitment to equitable inclusion in professorial hiring also helps to build a more welcoming climate. Professor Sarah Riley Case's recent hire as an assistant professor who teaches public international law and critical race theory is an important example of this commitment.
"First and foremost, we are a publicly funded, publicly purposed institution that has a huge role to play in assuring access to justice," says Leckey. "Whether or not [diversity] contributes to richer classroom discussions – which I think it does – there is a basic justice imperative to having this public institution be representative of the communities that fund us, and that surround us."
Looking at the bigger picture
Williams calls McGill's results in the BLSA Canada report "heartening," but, like Leckey, she knows there are many more steps to take along this "learning journey."
"I'm taking it in stride and asking myself what else can we do?" she says.
Internally, Williams says the Faculty of Law will continue exploring ways to expand funding opportunities and outreach programs, especially in schools serving underrepresented communities. She also wants to strengthen the connections between current law students and Black alumni.
But Williams is also looking beyond the Roddick Gates.
"I'm in contact with colleagues from other institutions. We try to learn from each other as to what works and what doesn't," she says. "The ultimate goal is to increase the number of Black law students across the country to the point where amassing these numbers is not necessary because we know that we're doing well."
Read the Black Law Student Census Report.