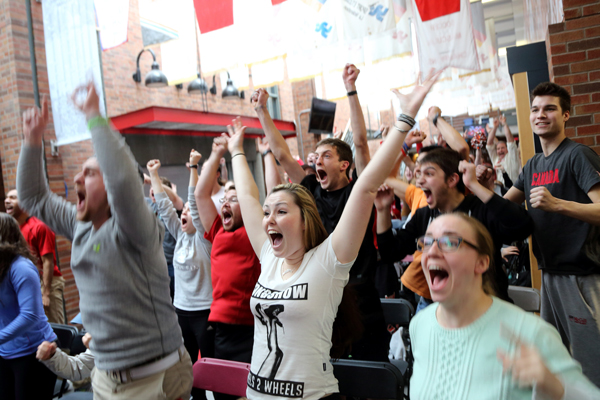 By Earl Zukerman
Three products of the McGill women's hockey program all struck gold on Feb. 20, when Canada rallied from a late two-goal deficit to edge the United States 3-2 in overtime.
Mélodie Daoust, a 22-year-old physical education student currently on sabbatical from her studies, was part of a miracle ending for Canada along with McGill grads Catherine Ward (B.Com. '09) and Charline Labonté (B.Ed. '12).
The U.S. led 2-0 and were only minutes away from earning gold before disaster struck and a Hollywood ending emerged. Canada tallied twice in the final 3:26 of the regulation and Marie-Philip Poulin scored the winner on a power play at 8:10 of overtime for her second of the game. She had tied it up with 55 seconds remaining in regulation.
"Just before receiving the gold medal, I took a deep breath and just tried to take the moment in because there are not many people who have had that moment in their life," said Daoust, a 20-year-old physical education student from Chateauguay, Que., who scored once at the Olympic tourney in Sochi. "I was so happy, so proud to be Canadian at that moment. There were a lot of emotions going on when we were in line to receive our medals. It means so much to me. It's a dream come true and the best feeling ever. I slept with my medal around my neck and used a Canadian flag as my cover sheet. I only had about two hours of sleep but it was a pretty comfy night."
It's been an impressive rise through the ranks for Daoust, who was named CIS rookie of the year as a freshman and was voted CIS player of the year as a sophomore last season, becoming the first CIS hockey player to accomplish that feat in back-to-back seasons. She is taking the whole year off school but will return to the McGill Martlets next fall.
"It was such an exciting finish. We kept believing in ourselves and knew that we could do it," added Daoust in an overseas call from Sochi. "When we scored that first goal, we were very excited and when the USA hit the goalpost on our empty net, we saw that as a sign (that our luck would change) and we just believed it even more. We were so happy to get to overtime and knew that we had something left. It's a feeling that I will never forget for sure.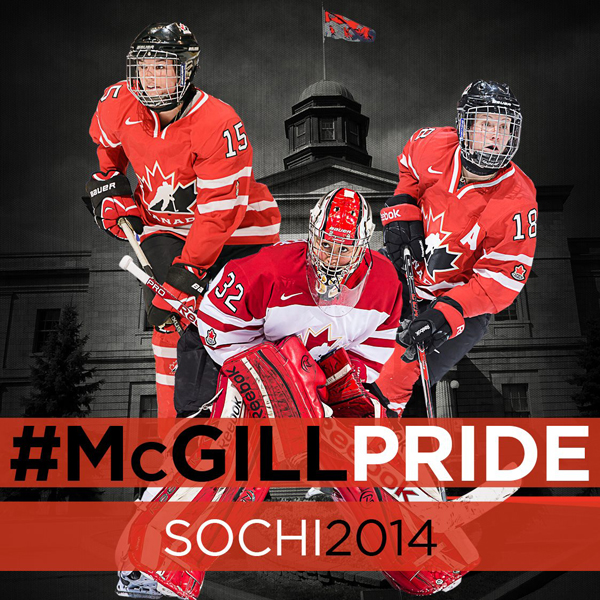 It was the third Olympic gold medal for Labonté, a five-time All-Canadian netminder with the Martlets who saw action in two contests in Sochi, a 5-0 shutout over Switzerland and a 3-2 preliminary round victory over the U.S. She also backstopped McGill to three CIS national championships. The 31-year-old from Boisbriand, Que., graduated in 2012 and is currently working towards a master's degree in sports psychology at McGill.
She served as an alternate at the 2002 Olympic Winter Games before achieving the highlight of her career at the 2006 Olympics in Turin where she played three games, including the semifinal shutout of Finland and the gold medal game victory over Sweden when she allowed her only goal of the tournament. At Vancouver 2010 she earned her second Olympic gold medal after playing 20 minutes of a preliminary round game against Sweden.
It's the second Olympic gold for Ward, 26, who was credited with one assist in five games and led Canada in minutes played, averaging over 24 minutes per contest. Ward was described on Thursday as the "top defender in the world" by NBC hockey analyst Pierre Maguire on Montreal radio station TSN 690.
Ward hails from the Town of Mt. Royal, a borough in Montreal. She too captured CIS rookie of the year honours (2006-07) and was a two-time all-Canadian rearguard, helping the Martlets win a pair of CIS national titles. After graduating with a commerce degree in only three years, she went on to play the 2010-11 season at Boston University, where she earned an MBA, merited All-American second team honours and helped the team reach the championship game of the NCAA Frozen Four.