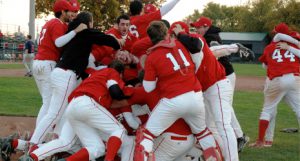 By Earl Zukerman
WINDSOR, Ont. — Third baseman Chan Arndt hit the daily-double, registering three hits and collecting three runs batted in as McGill rallied for a wild 12-9 victory over the Brock University Badgers to capture the Canadian Intercollegiate Baseball Association championship at Mic Mac Field in Windsor, Ont., Sunday.
The Redmen won four of six games played over three days to finish with a 20-7 record overall and earn their second-ever national title — the first for a McGill men's team in any sport since baseball last won the CIBA banner in 2006.
Arndt, a native of Yarmouth, Maine, was named tournament MVP, going 12-for-21 (.571) with one walk, eight RBIs, four runs scored and a pair of doubles.
"We've played so many games over the weekend that it's all kind of a blur," said Arndt, a political science sophomore who led the tourney in both hits and RBIs. "I've won state championships and Little League titles but winning a national championship like this was a new experience and felt very different."
Outfielder Josh Gordon, a mechanical engineering sophomore from Dollard des Ormeaux, Que., also posted solid numbers and earned all-tournament honours. He went 7-for-18 at the plate, with a pair of walks, six RBIs and four runs scored.
The Redmen won their opener 8-2 over Cape Breton University on Friday but had to survive playing a triple-header on Saturday and sweep a doubleheader on Sunday. McGill lost twice on Saturday, 8-0 to Durham College and 5-0 to Concordia, which forced them to play a sudden-death tie-breaker against St. Clair College (a 16-4 win) in order to qualify for a Sunday's elimination games. In the national semifinal against previously undefeated Durham College (21-0), Anthony Carbone tossed a complete game four-hitter as McGill came away with a 3-0 victory.
In the final, McGill scored twice in the first inning but Brock responded immediately with four runs and added another in the third to go ahead 5-2. The Redmen then exploded for six runs in the fourth inning, sparked by a three-run double from Ted Davis of North Andover, Mass., and never lost the lead after that. They finished with 13 hits, including three apiece from Gordon, Davis and Alexander Day.
L.J. Aguinaga, a junior from Dollard des Ormeaux, Que., pitched 4.2 innings in relief of starter David Haberman to stop the bleeding and record the victory. Reliever Daniel Porter, a freshman from Coaticook, Que., got the last four outs to close out the game and earn a save.
"These are truly an amazing bunch of young men," said Ernie D'Alessandro, in his 15th season as head coach and field manager of the Redmen. "They fought through adversity and rose up above everything to win. I am so proud of them."