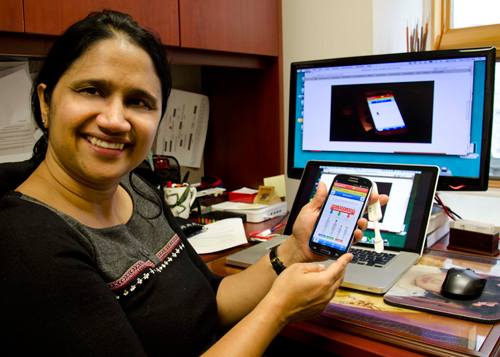 By McGill Reporter Staff
It used to be we were impressed by phones that could tell us where the nearest pizzeria was located. Now, thanks to an award-winning self-screening strategy developed by Dr. Nitika Pant Pai and her team, smart phones have become essential tools to help people test themselves for the Human immunodeficiency virus (HIV). Yes, smart phones just got a whole lot smarter.
Earlier this month, Dr. Pant Pai received the international 2013 Accelerating Science Award Program (ASAP), worth $30,000 for developing an innovative self-test screening strategy for the HIV. The award, funded by Public Library of Science (PLoS), Google and Wellcome Trust, recognizes scientific innovations borne out of Open Access research that address real world challenges.
"Introducing self-testing for HIV in many global communities is controversial and risky. There are unanswered questions and concerns that prevent people from taking the first step," explained Dr. Pant Pai, a professor in the Department of Medicine and a researcher at the Research Institute of the McGill University Health Centre (RI-MUHC). "We cannot ignore the fact that groups most affected with high rates of HIV infections are also marginalized, poor and vulnerable. They face access-to-care issues and need help in ways that other groups do not. We developed this innovation to respond to their needs."
The award-winning HIV screening strategy, which was developed at the Royal Victoria Hospital, involves an oral, over-the-counter, self-test that detects the presence of HIV antibodies, coupled with an interactive website and mobile phone app called HIVSmart. Users are guided through a confidential process of self-testing, which contains information, instructional videos, a 24-hour help line and confidential linkages to care and counselling.
HIV testing in health facilities has been less successful than hoped because of the stigma, discrimination privacy issues and long wait times. This strategy addresses some of these issues in a simple and effective way, allowing individuals to be tested in the privacy of their own homes and seek immediate medical advice.
Despite approximately 2.5 million new cases of HIV being diagnosed each year across the world, six out of ten cases go undiagnosed, often due to the stigma attached to being tested. "The HIV self-test screening tools developed by Dr. Pant Pai and her team offer a major step forward in addressing this global health issue," said Dr. David Eidelman, Dean of Medicine and Vice-Principal (Health Affairs).
"The development of this innovative application represents a major advancement in our ability to deal with the evolving HIV epidemic that affects people worldwide," said Dr. Vassilios Papadopoulos Executive Director and Chief Scientific Officer of the RI-MUHC. "Unfortunately, stigma and discrimination are often associated with HIV. I am proud of our researchers for breaking down the boundaries that will lead to improved access to care."
Currently, HIVSmart works on Android devices, but researchers are working on an iOS version, as well as expanding the number of languages. "We hope that this tool will be available to more people, through more phones in more countries over the coming months, including Canada," said Dr. Pant Pai.
The other members of Dr. Pant Pai's team that shared the award are Roni Deli-Houssein (Research Assistant – Student, MUHC), Caroline Vadnais (Research Manager, RI-MUHC), and Sushmita Shivkumar ( M.D. Candidate 2016, McGill).
To watch the video of Dr. Pant Pai team project HIV Self-Test Empowers Patients, go here.
To learn more about the application visit www.nitikapantpai.com