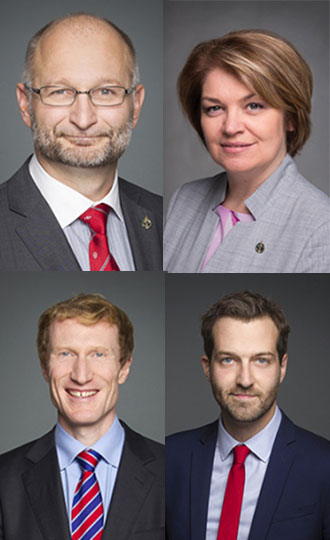 By McGill Reporter Staff
Ottawa just got a little redder, McGill red that is. Last week, four members of the McGill community were appointed parliamentary secretaries and two current students were named to the Prime Minister's Youth Council.
On Jan. 26, Prime Minister Trudeau announced some changes to his lineup of parliamentary secretaries. The changes are, in part, a ripple effect of the cabinet shuffle from earlier this month.
"I am delighted to announce 34 parliamentary secretaries who will work with their respective cabinet ministers to deliver real results for Canadians," said the Prime Minister. "This team's talent, dedication, and breadth of experience will prove invaluable as we pursue our plan to rebuild and strengthen Canada's middle class, and deliver long-term economic growth that is felt by all Canadians."
The four McGillians who will serve as parliamentary secretaries include:
Joël Lightbound (BCL/LLB'11), Parliamentary Secretary to the Minister of Health
Joël Lightbound is the Vice-Chair of the Standing Committee on Access to Information, Privacy and Ethics and a member of a number of other committees.
Born and raised in Sainte-Foy, he is a lawyer and a member of the Quebec Bar Association. He began his career with the Montreal firm Fasken Martineau DuMoulin as a student, intern, and lawyer. Lightbound then practiced law in the Quebec City area with a firm specializing in immigration law.
David Lametti (LLB'85, BCL'89), Parliamentary Secretary to the Minister of Innovation, Science and Economic Development
McGill law professor and intellectual property expert David Lametti holds a Bachelor of Arts in Economics and Political Science from the University of Toronto, a Bachelor of Civil Law and Bachelor of Laws from McGill, a Master of Laws from the Yale Law School, and a Doctor of Philosophy in Law from Oxford University. Prior to starting his doctoral studies in law, he served as a Law Clerk to Justice Peter deCarteret Cory of the Supreme Court of Canada.
Marc Miller (BCL/LLB'01), Parliamentary Secretary to the Minister of Infrastructure and Communities
Miller grew up in Montréal and graduated from McGill in Common Law and Civil Law. Miller is a member of the Subcommittee on International Human Rights of the Standing Committee on Foreign Affairs and International Development, a member of the Subcommittee on Agenda and Procedure of the Standing Committee on Foreign Affairs and International Development, and a member of the Standing Committee on Foreign Affairs and International Development.
Miller has been involved in several charitable and pro bono legal initiatives and served in the Canadian Armed Forces as an infantry section commander.
Sherry Romanado (CertPRMgmt'05), Parliamentary Secretary to the Minister of Veterans Affairs and Associate Minister of National Defence
Sherry Romanado was the Assistant Director of Continuing Education at Cégep Champlain of Saint-Lambert and a lecturer at McGill's School of Continuing Studies. As an engaged citizen, Sherry has always been highly involved in her community. She was the Vice President and Director of Communications for the CGG 1979 Centennial Cadet Corps of Greenfield Park, as well as a member of the Royal Canadian Legion (Branch 94) and the Greenfield Park Lions Club.
One of the main functions of a parliamentary secretary is to assist in parliament and relay information between the caucus, government departments, and committees. House of Commons duties include answering questions during question period.
A parliamentary secretary in Canada is a member of parliament assigned to assist a cabinet minister. In some cases, a parliamentary secretary may be assigned to assist the prime minister or several cabinet ministers.
Parliamentary secretaries are appointed by the prime minister and work under the direction of a cabinet minister or ministers.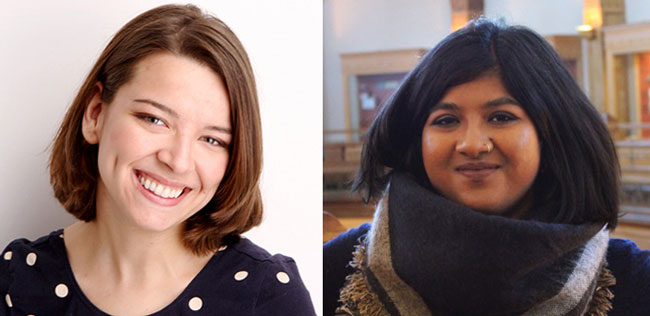 The day before, on Jan. 25, Prime Minister Trudeau also announced the names of 11 leading young Canadians to join the Prime Minister's Youth Council. Two McGill current students were named to the Council.
A body of young Canadians aged 16 to 24, the Youth Council provides non-partisan advice to the Prime Minister on national issues such as employment, access to education, building stronger communities as well as climate change and clean growth, among others.
The McGill students who have been named to the Council are:
Simone Cavanaugh
Simone Cavanaugh is a Loran Scholar and a recipient of Canada's Top 20 Under 20 award. Currently, she is in her final year of law school at McGill where she serves as Equity Commissioner. She is a human rights activist who is passionate about women's and children's issues, particularly as they intersect with issues of disability and accessibility. As a motivational speaker, she recently gave a TEDx talk on overcoming challenges and providing for every child with special needs. She is interested in working toward better access to education and employment for Canadian youth with disabilities.
Neha Rahman
Neha Rahman is a McGill History and Classics student who, after immigrating to Canada at age three, grew up in Toronto, Ontario. Her passion for community involvement is closely connected to her own experiences as an immigrant and a woman of colour. As a high school student she was involved in such efforts as founding a Feminist Club and leading the Social Justice club. A few examples of her initiatives include raising funds and awareness for missing and murdered Indigenous women, collecting clothing for donation to a women's shelter, and lobbying school faculty to deliver in-class content about women involved in science, technology, engineering, and mathematics (STEM), for which she was awarded the District 12 Status of Women award.