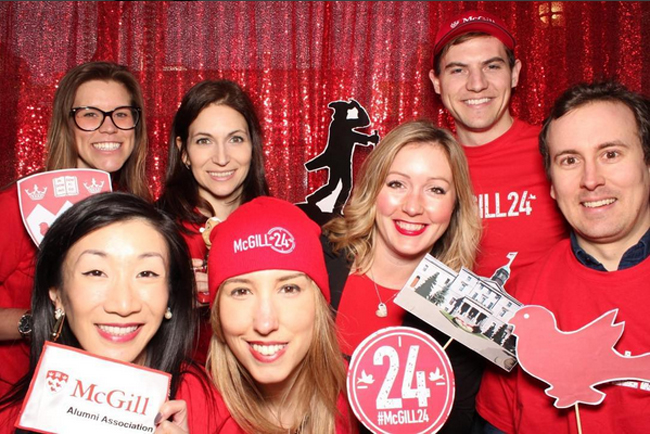 With less than a week to go before the annual McGill24 digital fundraising initiative — held this year on March 14 — University Advancement is asking you to think about the things that make you most proud to be part of the McGill community. Over a 24-hour period, donors can direct their gifts to support the initiatives that are nearest to their hearts, be they scholarships, entrepreneurship programs, specific faculties or libraries, research support and sustainability initiatives.
McGill24 is a global demonstration of the importance of philanthropy and its impact on McGill's students, its research and the community at large. As it has in past years, the 2018 edition of McGill24 will roll out primarily on Facebook, Twitter, Instagram and elsewhere online. Alumni and fans can showcase their pride by sharing photos and videos using the hashtag #McGillProud. Details are on the McGill24 website.
One of McGill24's primary focuses is showing the impact of giving. In a video released last month, the McGill graduates behind Saccade Analytics, a start-up behind a virtual reality device for diagnosing concussions, talked about the entrepreneurial support they received at McGill's Dobson Centre for Entrepreneurship—a resource that, in turn, is supported by grads such as mentor Andrea Courey (BCom'82, MA'16). And that is just one example of the kinds of high-impact stories that are certain to be shared on March 14.
"After the past two years of tremendous success with McGill24, we've built up a lot of momentum and enthusiastic participation within our global alumni community," says Vice-Principal (University Advancement) Marc Weinstein (BA'85, BCL'91, LLB'91). "It's so gratifying to see McGillians come together like this and build awareness of the importance of philanthropy for the University and the work of our students and researchers. Faculty and staff helped us to our record-breaking results last year, and I encourage even more of our campus community to join in on this year's day of giving."
McGill24 debuted in 2016, with a campaign that raised $793,000 from 1,641 donations. Last year, the second annual day of giving upped its game, raising $1.39 million on the strength of nearly 3,500 gifts—a warm outpouring of support that stood in stark contrast with the day's frigid weather, which saw the University cancel classes for the first time since the '98 ice storm.
What can people expect from the third McGill24, other than (hopefully) more hospitable temperatures? One of the new features is TAG (Thank-A-Giver) Week, which will run in the lead-up to McGill24, from March 7-16. Bilingual "gift tags" will be displayed in major buildings on both campuses, explaining the very (and, often, literally) concrete ways that philanthropy shapes the University.
Faculty and Staff Ambassadors are another new feature for 2018. Some 100 volunteers will engage in peer-to-peer solicitation, as a way to both increase faculty and staff participation and grow community spirit on campus.
Justin Fletcher (BA'14) is one of the 2018 Staff Ambassadors. He came to McGill from New York state in 2010. After graduating with honors in East Asian studies and anthropology, he started working as a Learning Technology Consultant in McGill's Teaching and Learning Services (TLS).  Fletcher is no stranger to the transformative power of philanthropy—when he was president of the Arts Undergraduate Society, he participated in a University Advancement "Seeds of Change" crowdfunding project to create Arts Health and Wellness Week—so he jumped at the offer to become a McGill24 Ambassador.
"Given my previous experience working with University Advancement and seeing how it could impact students in a positive way," he says, "I thought it would be helpful to lend my name and social media following to the cause."
Fletcher has already been encouraging TLS staff to wear McGill swag on March 14, and, on the morning of the big day, his Facebook and Twitter accounts will begin automatically posting some pre-populated posts about McGill24.
Not surprisingly, when it comes to his own particular point of McGill pride, Fletcher's focus is on teaching and learning. "We work very closely with faculty to improve the teaching and learning experience. Any funds that can help support students are truly valuable," says the student-turned-staff.
In addition to the new initiatives, all the old McGill24 favourites will be back for 2018. The challenge funds and matching gift commitments, for example, will allow people to use their gifts to release thousands of additional dollars. (Several generous donors have agreed to "unlock" additional funds once a target number of donations is reached for a particular initiative or region.)
Well-known alumni are again creating video testimonials about how their McGill educations have shaped their lives and careers. This year's crew are still hush-hush, but past testimonials have come from people such as Hollywood icon William Shatner (BCom'52, Hon DLitt'11), Olympic gold medalist Jennifer Heil (BCom'13), Toronto Maple Leafs head coach Mike Babcock (BEd (PE)'86, Hon LLD'13), six-time Stanley Cup winner Ken Dryden (LLB'73), and Cirque du Soleil chairman Mitch Garber (BA'86).
There's an IRL side to the online campaign, too, with global ambassadors hosting numerous giving-themed events around the world.
As always, 100 per cent of McGill24 gifts will go to the area designated by the donor. There is no minimum donation amount, and Canadian tax receipts are automatically generated for online gifts.