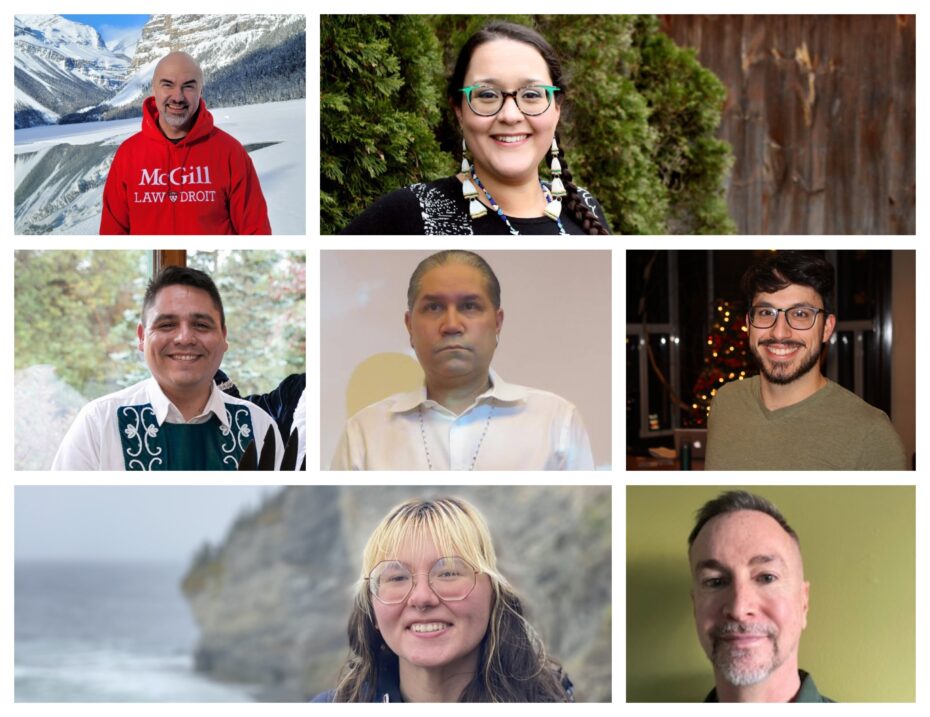 The fourth edition of the Indigenous Faculty and Staff Welcome Ceremony, held on February 14, welcomed seven new Indigenous staff members from a wide range of disciplines, including law, social work, and agricultural and environmental sciences. The 90-minute online ceremony was designed to highlight the University's commitment to increasing the Indigenous presence on campus.
The seven new McGillians are:
Mathew Coutu-Moya (Indigenous Access McGill Coordinator, School of Social Work)
Brittany Wenniserí:iostha Jock (Assistant Professor, Faculty of Agricultural & Environmental Sciences: School of Human Nutrition)
George Kennedy (Faculty Lecturer, School of Continuing Studies)
Lance Lamore (Indigenous Counsellor, Wellness Hub, Student Services)
Joshua Nichols (Assistant Professor, Faculty of Law)
Vanessa Racine (Administrative Coordinator, Indigenous Studies and Community Engagement Initiative (ISCEI))
Terry Young (Student Advisor, First Peoples' House. Currently on developmental assignment with ISCEI)
The three new professors and four staff members were formally welcomed by Provost Christopher Manfredi, who noted the Indigenous community among faculty and staff at McGill has now grown to 31 members – 10 staff, and 21 faculty from several nations, Métis and Inuit people.
"Although the number is small, we hope that through regular contact with our Indigenous Initiatives units every three months for the quarterly updates, as well as the activities of the Indigenous caucus, that you will feel a sense of community with other Indigenous faculty and staff," Manfredi said.
The Provost also reiterated McGill's commitment toward reconciliation, though he acknowledged the changes we wish to see happen don't always occur fast enough or go far enough.
"We are working hard on those 52 Calls to Action." Manfredi said. "As the Indigenous community at McGill grows, it would be an opportunity for us to have an in-depth exchange about those calls to action…and I very much will welcome your thoughts about how we should prioritize those calls."
In its 2017 Final Report, the Provost's Task Force on Indigenous Studies and Indigenous Education called upon the University to set a target of appointing at least 35 Indigenous tenure-track or tenured professors by 2032.
Giving thanks to nature
Kahnawake elder Charlie Otsi'tsaken:ra Patton opened the ceremony with the Haudenosaunee (Iroquois) Thanksgiving Address.
"The Haudenosaunee people, our Elders, have taught us that, whenever people gather for any occasion, the first thing that we acknowledge are the forces that have given us life at this time and continue to support us into the future," he said. "This ceremony has been done since the beginning of time and its purpose is to remind all those listening to never forget to be thankful for all that is in place to help us accomplish the work at hand using a good mind."
He was joined by another Kahnawake Elder, Kevin Ka'nahsóhon Deer, who shared a message about the importance of relationships – particularly that which we have to the natural world.
"We are all at a point in history where we all better start to see different," he said. "We all better start to hear different. In 1990, a group of scientists got together. They said we're now approaching the Anthropocene, which essentially means human extinction. Because everything is out of whack, and if it's going to take Mother Earth 4.5 billion years to rewrite everything again in perfect harmony and balance, so be it. She's got all the time in the world. We don't."
The importance of Indigenous voices
Alex McComber, an assistant professor at the Department of Family Medicine, who was welcomed in last year's ceremony, joined this year's honourees to lend his support – and to reiterate the importance of bringing Indigenous ways of life into teaching and research, and to create a space where those voices are respected and honoured.
"We carry this responsibility to make this place healthy and strong for my grandchildren, and their grandchildren, and all our future brothers and sisters coming into this place, that they come into safe places, places of power where our respect among all peoples is evident," McComber said.