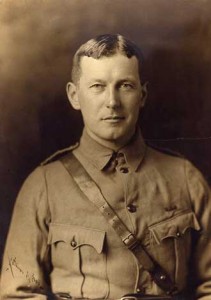 In Flanders Fields, by McGill field surgeon John McCrae, to be read at ceremony
By Chris Chipello
The McGill University community will mark Remembrance Day with a ceremony on the University's downtown campus Tuesday morning.
Tuesday's event will begin at 10:30 with a procession from the Roddick Gates to the Arts Building, where a wreath will be placed by a veteran and by Principal and Vice-Chancellor Heather Munroe-Blum.
In the 20th century's two World Wars, McGill lost more than 600 men and women: 363 from McGill perished in World War I and another 298 lost their lives in World War II. McGill also made significant contributions to the medical care of wounded soldiers in both wars.
Since the World Wars, "McGill has continued to contribute its finest individuals to help resolve conflicts in Kosovo, Eritrea, Afghanistan and elsewhere," said Wes Cross, an administrator in Student Services and co-founder of the McGill Remembers Project (www.mcgillremembers.mcgill.ca).  "As a community, McGill should never forget them."
In Flanders Fields, the famous poem about fallen soldiers, was written by Lieutenant Colonel John McCrae, a McGill surgeon who was in charge of a field hospital during World War I.  The poem will be read at the ceremony.
Following commemorative readings by leaders of the Student Society of McGill University, Rev. Jeffrey Barlow, the University chaplain, will address the gathering of veterans, alumni, students and staff.
At 11 a.m., a military trumpeter will play Last Post, followed by a minute of silence. The ceremony will conclude at 11:04, after a piper plays The Lament and the trumpet plays Reveille.