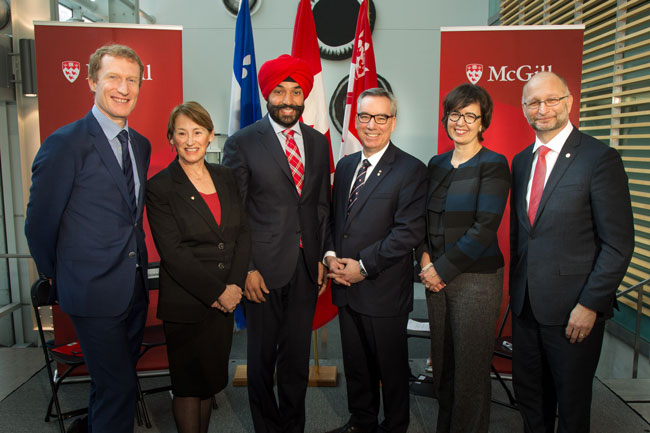 At a press conference held in the atrium of the Bellini Building on March 2, the Government of Canada announced that McGill and two of its affiliated hospitals will receive $70.7 million through the $2-billion Post-Secondary Institutions Strategic Investment Fund. The SIF funding is earmarked for upgrades to research facilities and energy-saving renovations. The Quebec government will provide an additional $5.1 million toward the cost of the work at McGill.
The Honourable Navdeep Bains, Minister of Innovation, Science and Economic Development, made the announcement. He was joined by Members of Parliament David Lametti and Marc Miller, Martine Alfonso, Interim President and Executive Director of the McGill University Health Centre, and Principal Suzanne Fortier. Yves Beauchamp, Vice-Principal (Administration and Finance), hosted the event, which he called a celebration of "an important day for research, education and training in Canada."
"This is about making strategic investments back into our communities and institutions when interest rates are low," said Bains, who cited studies that show that every dollar spent on infrastructure during low-interest periods generates "significantly more" than one dollar in economic activity. "What are we promoting? Innovation. Innovation for a better Canada. Better jobs. Better opportunities. Better technologies. Better companies. And, of course, better living standards for us and for future generations."
"As a result of this investment," he added, "students, professors and researchers will be working in state-of-the-art facilities that support the country's best research. We have academic institutions with tremendous reputations, like McGill, but we also want to see infrastructure that represents and reflects those reputations. They will collaborate in specially designed spaces that support life-long learning and skills training–and they will work in close proximity with partners to turn discoveries into products or services, and get these to market faster. That's exciting: this is about having a positive and meaningful impact on the daily lives of people."
The $70.7 million in SIF funding will be applied to nine projects, which have a total budget of $204.2 million.
The biggest project is a $112-million makeover to the Stewart Biology Building, which was built in 1965 and no longer meets standards for modern university facilities. The University will apply almost half of the SIF funding toward the complete reconfiguration of the building's interior spaces, the construction of new laboratories, and the replacement of all mechanical and electrical installations. "Once complete," said Minister Bains, "this facility will be a valuable resource for biodiversity and ecology researchers."
The MUHC will put $3.9-million of SIF funding toward an $8.5-million renovation of three research and training sections of the Montreal General Hospital: the Centre for Outcome Research and Evaluation, the Centre for Innovative Medicine and the Surgical Innovation Platform.
"This grant will help us continue the leadership that has been shown over the years," said the MUHC's Martine Alfonso, "and build on the impressive history of relevant medical achievements and excellence in teaching and research."
Seven other McGill infrastructure projects will receive SIF funding:
The construction of a building to house two new energy- and emissions-efficient generators that will power the Arts, James, Leacock, Rutherford and Wong buildings. These buildings are currently serviced by temporary generators. (Total cost of project: $13.5 million)
Upgrades and partial replacement of the air ventilation system in the Lyman Duff Building. ($30M)
High-efficiency optimization of the main ventilation system in the Rutherford Building. ($21.3M)
Replacement of the ventilation system in the Macdonald-Stewart Library. ($3.7M)
Expansion of the nanofabrication labs in the Rutherford Building. ($5.5M)
Renovation of the sustainable materials labs in the Wong Building. ($5.7M)
Construction of a new health care innovation incubator and "ideas lab" at the McGill-affiliated Jewish General Hospital (total: $4M)
Principal Fortier noted that "the link between ventilation systems and Canada's Innovation Agenda may not be totally clear to everybody–but they are really the building blocks that make possible the research that is being conducted."
She thanked the Canadian and Quebec governments for "this important investment in our institutions. We are very fortunate to have a government that recognizes that investing in research and innovation is a necessity. It is the cornerstone of our future prosperity and well-being. And the role of our universities is to create an environment that supports innovation and creativity."
Former McGill law professor David Lametti currently serves as Member of Parliament for LaSalle—Émard—Verdun, and as Parliamentary Secretary to Minister Bains. "The Government of Canada's investments in post-secondary infrastructure will ensure Canadian students are innovation-ready," he said. "Ready to spot opportunities, to imagine possibilities, and to discover new ideas."
During the event, Minister Bains and Marc Miller, Member of Parliament for Ville-Marie—Le Sud-Ouest—Île-des-Sœurs, each took a moment to address yesterday's bomb threats at Concordia University, which were directed at Muslim students.
"What we saw happen yesterday is a sobering reminder that, as Canadians, we cannot take the values of diversity and inclusion for granted," said Bains. "We must take this moment to reaffirm our commitment to each other. And that's why we stand shoulder-to-shoulder with our Muslim brothers and sisters during these very difficult times."
"An act of hatred against the Muslim community is an act of hatred against all of Canada," said Miller.