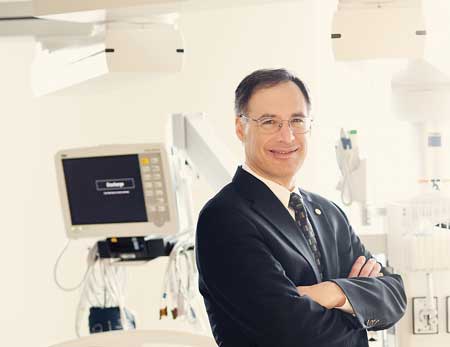 Joining Research Leadership Circle give impetus to work already going on here, Eidelman says 
By McGill Reporter Staff
Almost 70,000 Canadians die each year from heart disease and stroke – that's one person every seven minutes. And despite impressive gains in research and treatment, cardiovascular disease still accounts for almost 30 per cent of all deaths every year in Canada.
In an effort to further reduce the devastating impact of cardiovascular disease, McGill has announced that it has been selected to join the Heart and Stroke Foundation Research Leadership Circle, an unprecedented $300-million, multi-year collaboration between the foundation and 18 of the country's leading academic and hospital research institutions.
As part of this partnership, McGill researchers will be eligible to receive at least $5 million in funding over the next 10 years to support projects that will advance research and understanding of cardiovascular disease, offering hope for better preventive techniques and treatments.
"The Heart and Stroke Foundation has been an invaluable partner of McGill for many years, demonstrating time and again the critical part that foundations play in moving research forward through targeted philanthropy," Principal Heather Munroe-Blum said in a statement. "We are extremely grateful to the Foundation for its continued support, and we look forward to the advancements we will make together in the fight against heart disease and stroke."
David Eidelman, Vice-Principal of Health Affairs and Dean of Medicine, echoed this sentiment. "We are honoured to join the Heart and Stroke Foundation in its efforts to dramatically reduce heart disease and stroke for communities across Quebec and Canada," he said. "This crucial funding will give impetus not only to the great research being conducted in medicine and the allied health disciplines at McGill, but also to the several collaborations under way with our sister faculties at McGill."
McGill is internationally recognized as a leader in the field of heart disease and stroke, with prominent researchers spanning the Faculties of Medicine, Science, Engineering and Education, among others, as well as its network of teaching hospitals.
The Heart and Stroke Foundation has pledged to cut Canadians' rate of death by heart disease and stroke by 25 per cent by 2020 and is hopeful that this commitment, the largest in its 60-year history, will accelerate progress toward that goal.
"Simply put, there's an urgent need to save more lives faster and that's why the Foundation has brought together the Research Leadership Circle," said David Sculthorpe, CEO of the Heart and Stroke Foundation. "This $300-million commitment will allow our partners an unprecedented ability to plan major research projects, foster greater collaboration and attract even more of the world's best researchers within and outside of Canada to fight these insidious diseases."
The Heart and Stroke Foundation, is one of Canada's largest charities and has played a pivotal role in McGill's research prowess in this area. Since 1994, more than 75 McGill researchers have benefited from the support of nearly 185 grants and awards funded by the national Foundation and its provincial partners.