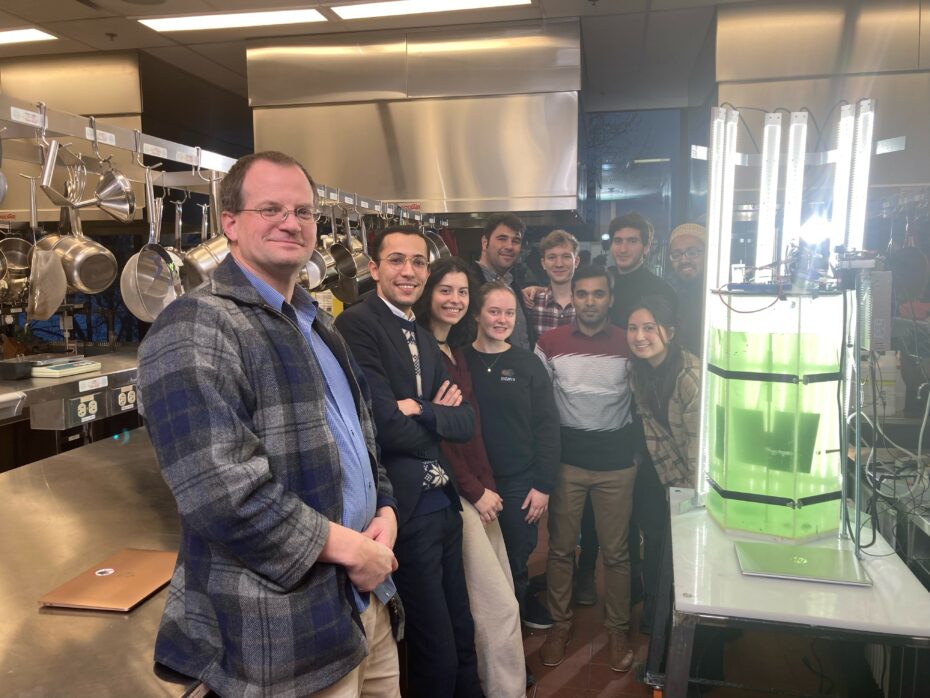 Two McGill teams have demonstrated working prototypes for producing food on long space voyages in the 'kitchen demonstration' stage of the Deep Space Food Challenge (DSFC), a joint initiative of NASA, the Canadian Space Agency (CSA), and Impact Canada.
On January 17, the teams demonstrated their novel technology in front of the DSFC jury: one in the McConnell Engineering Building downtown, the other in the Biomass Production Laboratory at Macdonald Campus. The jury's verdict, expected in the spring, will determine who among Canada's 10 semi-finalists will progress to the next phase of the competition in which teams will be required to develop a fully operational system by early 2024.
Ilias Hader, the McGill bioresource engineering graduate who co-leads the InSpira Photobioreactor (InSpira PBR) team with his colleagues Alyshia Guan and Danaé Barollier, was cautiously optimistic after the kitchen demonstration.
"Being pragmatic people, we're waiting for the final results to gauge whether it went well or not," he said. "But there was lots of interaction and probing questions asked by the DSFC technical team and the DSFC judge for both teams, which is usually a positive sign."
A little goes a very long way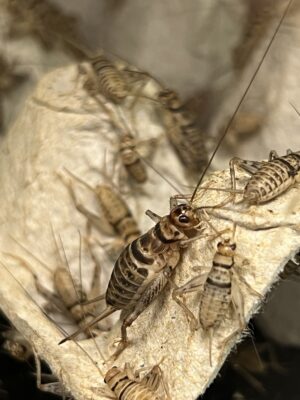 With future missions to the Moon or Mars likely to last many months or even years, astronauts will need a way to produce food aboard their spacecraft. Technologies that can meet this challenge could also have applications for more sustainable food production on Earth. Here's what the two semi-finalist teams from McGill have come up with in response to the Deep Space Food Challenge:
The InSpira Photobioreactor is a highly automated system to grow, harvest, and package spirulina-based drink and gel products. This type of blue-green algae packs a nutritional punch and is commonly available as a dietary supplement at health food stores. The proposed technology is a unique, cartridge-based photobioreactor, coupled with an in-house harvesting, dewatering, and processing unit to transform the culture into edible forms.
Co-led by McGill bioengineering students Alexander Becker and Cynthia Hitti, the Cricket Rearing, Collection, and Transformation System (CRCTS) is a first-of-its-kind technology to breed and harvest crickets suitable for human consumption. Starting with nothing but a few hundred eggs, the team anticipates that their technology will be able to support the growth of tens of thousands of crickets every month. The end product is a finely-ground powder that is stored safely within the system itself. When combined with water to form a paste, cricket powder is a versatile ingredient, packed with protein.
Strong contenders emerge from student-led initiative
CRCTS and InSpira PBR both evolved under the umbrella of the McGill Advanced bio-Regenerative Toolkit for Long Excursion Trips (MARTLET), an initiative supervised by Mark Lefsrud, Associate Professor in McGill's Department of Bioresource Engineering. The MARTLET project has engaged over 100 students and submitted a total of six design proposals to the DFSC.
"MARTLET is very much a student-led initiative, and the student leaders of the two semi-finalist teams are working hard to solve deep space's challenges," Lefsrud said. "The students are not hindered by any preconceived ideas of how to do things."
CRCTS co-lead Alexander Becker describes the development process as one of multiple iterations, through which team members gained valuable experience solving problems on a major engineering project and integrating aspects of electronics, mechanical hardware and cricket biology into a single system.
"In the end, our incredible team members persevered and succeeded in delivering a prototype that we were proud to present to the judges," Becker said. "I can't describe the feeling of awe in seeing initial sketches and CADs turn into a real-life prototype after months of work."