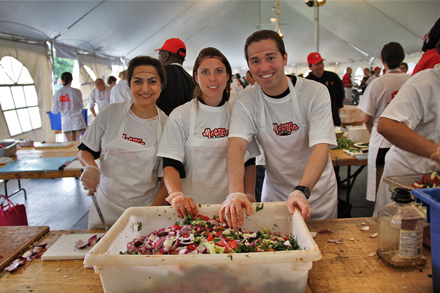 McGill's Student Housing and Hospitality Services team captured the 2014 Canadian College and University Food Service Association (CUFSA) Shine Award last Saturday for last summer's Tomato Fiesta on the lower campus. The prize is awarded for demonstrating outstanding dining, hospitality services, and teamwork to reach a major accomplishment, enhance the food-service business and improve the quality of campus life.
A team  can qualify for the Shine Award if one or more of the following criteria are met:
Exceeds the expectations of a customer by providing exceptional service.
Demonstrates creativity in assisting customers to best meet their needs.
Creating opportunities or guidelines for improving service.
Developing service plan improvements in support of the mission/vision of food services or the campus.
Achieving success through the adversity of a demanding dining event.
Maintaining a positive, progressive attitude in the midst of challenging situations.
"We're delighted to be recognized by this organization," said Mathieu Laperle, Senior Director of Student Housing and Hospitality Services. "I want to thank all the dozens of volunteers and staff members who worked under the direction of Executive Chef Oliver De Volpi to make this event the big success it was."
To remember this spectacular event, here's a video about it: http://www.youtube.com/watch?v=lgGvUZHqSgs or read the original article.