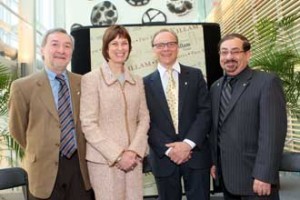 By Doug Sweet
It was a day for smiles, grins, backslaps, laughter, firm handshakes and congratulations all round. It usually is when $500,000 is being handed out with no strings attached to five of Canada's best scholars.
The national announcement of the annual Killam Prizes, which honour academic excellence across a variety of disciplines, took place in the atrium of McGill's shiny new Life Sciences Complex on May 11. Why there? Because McGill professors – Philippe Gros, Wagdi Habashi and François Ricard – took three of the five $100,000 awards. McGill alum John Smol, of Queen's, and University of Toronto professor Ernest Weinrib took home the other two.
"What a day this is," a beaming McGill Principal Heather Munroe-Blum said as she closed the presentation. "It's just a fantastic day."
It's not the first time McGill academics captured three of five Killam Prizes (that happened as well in 2005) and the University has a solid record with Killams, which are the largest prizes awarded to Canadian researchers. McGill can now count 19 Killams since the program was inaugurated in 1981.
The Killam Prizes are financed through funds donated to the Canada Council by Dorothy J. Killam in memory of her husband, Izaak Walton Killam. The prizes were created to honour eminent Canadian scholars and scientists actively engaged in research, whether in industry, government agencies or universities. They are awarded to recognize a body of significant work over the course of a career in research.
"Nothing could have been a more visionary gift than that given by Izaak and Dorothy Killam in thinking about how important the range of disciplines are," Prof. Munroe-Blum said.
Dr. Gros, a Fellow of the Royal Society of Canada, has done groundbreaking work in genetics, including leading a research team that identified the gene that causes spina bifida, the second-most common birth defect in humans. Dr. Gros was the first to isolate the "mdr" family of genes, which gives cancer cells resistance to many drugs. His research has also led to the identification of new genes that give rise to susceptibility to malaria.
"Research has always been and still is a great source of joy for me," Gros said at the event, going on to thank McGill "for allowing me the freedom to explore so many areas of genetic research over the past 25 years."
Prof. Habashi, also a Fellow of the Royal Society of Canada, and an internationally recognized authority in Computational Fluid Dynamics, has developed efficient applied mathematical solutions to a wide range of complex aerospace problems for aircraft, rotorcraft and jet engines. His research has resulted in a code used worldwide throughout the aerospace industry in dealing with the potentially dangerous problem of in-flight icing.
"I shall always be humbled," Habashi said, "and daunted the more I try to learn about how much I still have to know."
Prof. Ricard's numerous contributions to Quebec's literary history place him among the top historians of contemporary Canadian society. His biography on Canadian writer Gabrielle Roy won acclaim for its remarkable research, detail and significance to both Quebec and Canada's literary history. A Fellow of the Royal Society of Canada, he is a past winner of a Governor-General's Award.
The Killam Prize "is proof of the importance that the intellectual and university communities – in this era obsessed by efficiency and economic progress – continue to give to the arts and humanities sector," Ricard said.
Smol, who graduated from McGill in 1977 with a Bachelor of Science, is one of the world's elite environmental scientists and an international authority on Arctic freshwater conditions and environmental change. He has made significant contributions to the world's understanding of global environmental issues.
Weinrib is Canada's pre-eminent legal theorist and an internationally leading scholar of private law. He has reconceptualized the nature of legal liability by turning attention from law's instrumental uses to its moral meaning.
The Killam Program, which includes prizes and fellowships, "is a very powerful reminder," said Denis Thérien, Vice-Principal Research and International Relations, "that a university's main mission is about generating deep and fundamental knowledge."