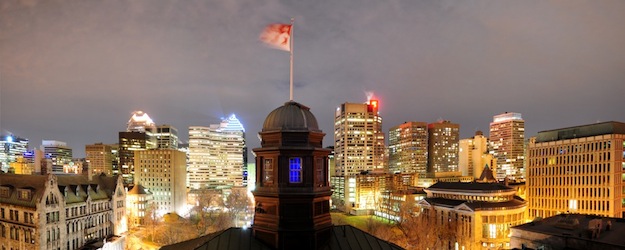 By Victoria Leenders-Cheng
Following the Summit on Higher Education this past February, the Quebec government established five Chantiers de travail, working groups chaired by high-profile Quebecers, to address the future of higher education in the province. The Government of Quebec is looking at revising the legislation that governs universities, as well as the structures that evaluate the quality of programs and education in Quebec universities.
In the late spring and summer of this year, former Principal Heather Munroe-Blum and other members of the senior administration met with chairs of several of the Chantiers, and made a detailed submission to the working group on university funding.
"The chairs of the Chantiers were very open to discussion and asked many questions, which is encouraging," said Olivier Marcil, Vice-Principal of Communications and External Relations. "The recommendations flowing from these Chantiers promise to set the future policy directions for universities, so it is very important that we look at the issues from many angles."
Taking up a subject that has been actively debated since Spring 2012, the working group on university funding divides the issue into three sub-topics: the funding formula for operating grants, tuition fees for non-Quebec students, and Frais institutionels obligatoires (FIOs or ancillary fees). Chantier co-chairs Hélène Tremblay and Pierre Roy will submit a first report for this Chantier in December 2013 and a second one in June 2014.
McGill's submission recommends that any new funding formula be firmly grounded in principles of equity, predictability, recognition of performance and accountability. This approach broaches the subject of the chronic underfunding of Quebec universities, which, the submission states, has serious consequences for the competitiveness of our institutions of higher learning, and, by extension, for Quebec's economic prospects and future prosperity.
McGill's submission goes on to recommend that:
– government reinvestment in universities be linked to performance, in accordance with the different missions of individual universities;
– government provide better funding for maintaining older and historic buildings as well as research spaces; and
– support for first-generation student enrolment be provided via need-based funding through the Quebec Loans and Bursaries program rather than changes to the funding formula.
In addition, McGill asked to have tuition for all international students in undergraduate or professional Master's programs fall under the same model as the six disciplines whose tuition was deregulated by the government in 2008. This model not only allows universities to set tuition rates, but, more important, also allows them to keep all tuition revenue rather than giving back the majority to the government.
"Due to the current system – unique among North American jurisdictions – McGill gives more than $50 million in tuition fees back to the government every year, fees that are in fact paid by out-of-province students. Our principle is simple: Students have the right to see the fees they paid reinvested for services in the university they choose to attend," said Marcil.
"Our main message to the chairs and, by extension, to the Quebec government is that universities need academic freedom and institutional autonomy to respond quickly to changing circumstances," continued Marcil. "Each university in Quebec is important, has a different mission, plays a different role in society and responds to different needs. Any oversight structure should encourage that diversity, which is great for Quebec."
To read the document submitted by McGill go here.