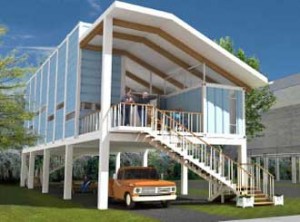 By McGill Reporter Staff
Students from McGill's School of Architecture took seven of the top ten awards, including the top three, in a contest sponsored by a New Orleans firm that challenged entrants to create new home designs for areas of the Big Easy ravaged by Hurricane Katrina.
Top architecture schools in North America were invited to submit original concepts to be judged on originality, innovation and sustainability, among other criteria, in the Billes Architecture Student Design Competition. The aim of the competition was to generate a series of cutting-edge designs for single-family homes that could be built on empty lots in many of the still-devastated areas of New Orleans. The houses had to contain three bedrooms and two and a half bathrooms, had to fit onto a 30 by 50 foot lot, and cost between US$150,000 and US$200,000.
Seven of the ten finalists in the competition were McGill teams. Student representatives from each of the finalist teams travelled to New Orleans for the awards ceremony on April 11. At the ceremony, Billes principal and founder Gerald Billes announced five winners, each of whom collected a $1000 prize. The winners included three McGill teams formed by U3 students Justin Boulanger and Ann Rodgers, Jessica Dan and Hamza Alhbian, and David Dworkind and Andrew Hruby.
All of the finalists are now eligible to have their home designs built and marketed by Billes Architecture.
Too see the 10 finalist designs, visit www.billesarchitecture.com/contest_finalists.html