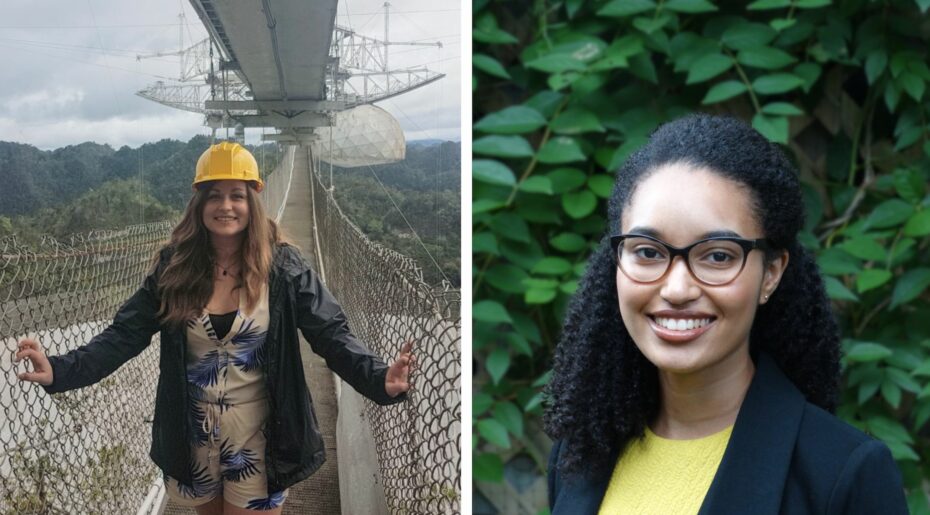 Two members of the McGill community were honoured by the Senior Women Academic Administrators of Canada (SWAAC) at the organization's annual conference. Organized and hosted by McGill, the SWAAC conference was held virtually on May 13-14.
Danielle Nadin, who has just completed her MSc in Neuroscience, won the Student Leadership Award in Equity, Diversity, and Inclusion. Emilie Parent, a PhD Candidate in the Department of Physics, was one of three winners of the Graduate Student Award of Merit.
Danielle Nadin: Student Leadership Award in Equity, Diversity, and Inclusion
Nadin is committed to promoting equitable and inclusive spaces in science, technology, engineering and mathematics (STEM) and academia more broadly. Nadin has just completed her MSc in Neuroscience from McGill, where she measured brain activity to predict recovery of responsiveness following brain injury. Alongside her commitment to neuroscience research and its applications, Nadin has long been involved in advocacy work within her university and beyond.
In 2018 and 2019, Nadin co-directed Scientista McGill, where she organized professional development and networking opportunities for women in STEM. In 2019, she co-founded SciComm Collective, an initiative which provides science communication training for research trainees, with a specific focus on the integration of equity, diversity, and inclusion (EDI) practices in communication. The Collective has connected hundreds of trainees with resources and, in 2020, they were awarded the NSERC Science Communication Skills Grant to further their commitment to embedding EDI in how researchers communicate.
Following the highly televised acts of anti-Black violence witnessed in 2020, which converged with the challenges of the COVID-19 pandemic, Nadin co-founded Black In Neuro alongside 20 other neuroscientists, neuroengineers, and science communicators. The inaugural Black In Neuro Week, a celebration of Black scholars studying the brain, garnered over 2,000 registrants and millions of social media engagements from around the world. The organization's work has been widely featured, including in Forbes, USA Today, Science and Nature Medicine. Through Black In Neuro, Nadin hopes to continue the conversation about dismantling anti-Black racism in the academic ecosystem.
Looking ahead, Nadin will continue bridging science and advocacy to create a more equitable, inclusive, and diverse research landscape in Canada and beyond. She recently began a role at the CIHR Institute of Gender and Health, where she hopes to do just that, by embedding Sex- and Gender-Based Analysis Plus in health research.
Emilie Parent: Graduate Student Award of Merit
Parent is a PhD Candidate in the Department of Physics whose research centres on observations of neutron stars: the stellar remnants left behind when massive stars die in a supernova. These stellar corpses are the densest and most magnetized objects observed in the Universe, and serve as extraordinary cosmic laboratories. She uses some of the most sensitive radio telescopes in the world to search for new neutron stars in the Milky Way and study their properties. She has published three articles as first author in peer-reviewed journals and participated in numerous international conferences.
During her graduate studies, Parent was appointed as student representative on the committee of two research associations: the McGill Space Institute, an interdisciplinary research centre; and the Centre de Recherche en Astrophysique du Québec, a consortium of astronomers across the province.
Passionate about science outreach, Parent launched Astronomy on Tap (AoT) in Montreal in 2017, which are space-themed, educational and interactive events held in local pubs. She also gave a public lecture series on gender diversity in STEM and astronomy-related topics within the Upop Montreal Popular Education Program. Hoping to inspire the future generation of astrophysicists, Parent has engaged with more than 200 students across the province through cybermentoring. She has received several awards for her achievements including a Vanier Canada Graduate Scholarship.
McGill contingent
Principal Suzanne Fortier, welcomed attendees to the conference and introduced keynote speaker, Jennifer Welsh, who is jointly appointed between McGill's Department of Political Science and the Max Bell School of Public Policy. Other McGill participants included Associate Provost Angela Campbell and Dean Anja Geitmann who served as moderator and panelist respectively on the panel on Disruption, Innovation and Trust.
"On behalf of the SWAAC Executive, I would like to extend my sincere thanks to Laura Winer and the organizing committee at McGill University for hosting an excellent and well-attended SWAAC virtual conference focussed on Building Trust and Earning Trust," said Donna Kotsopoulos, SWAAC Secretary General.
"The sessions and discussions focussed on issues significantly impacting universities and colleges across the country and ourselves, inviting attendees to consider how to build trust with their institutions and how to earn the trust of society at large," continued Kotsopoulos. "Panels explored these issues, with participants providing thought-provoking insight on the challenges that face women leaders in their respective areas."