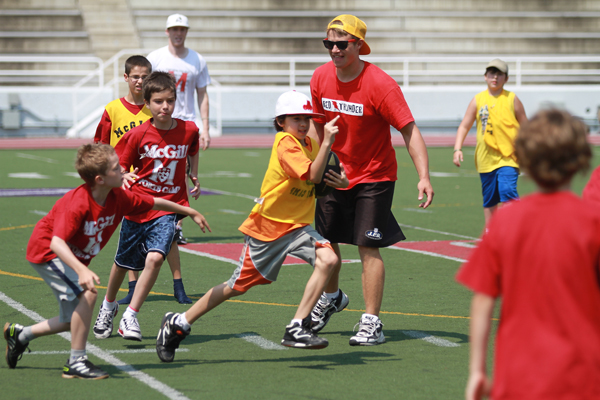 Registration for 2014 edition is now open
By Neale McDevitt
The Statistics Canada numbers don't lie; more and more Canadian kids are fat – and getting fatter. Using World Health Organization standards of measurement, 31.5 per cent of five- to 17-year-olds — an estimated 1.6 million Canadians — were classified as overweight (19.8 per cent) or obese (11.7 per cent) from 2009 to 2011.
And while the blame can be pinned upon any number of factors – from the proliferation of video games and processed foods to the death of pickup games at local parks – the bottom line is indisputable: overweight children run a significantly increased risk of developing a host of health problems as adults. These problems include cardiovascular disease, diabetes, cancer and osteoarthritis, as well as social and psychological problems such as stigmatization and poor self-esteem.
So how do we help our kids rediscover the fun in sports? Cue the McGill Sports Camp.
Entering its 31st year, this venerable summer camp has put smiles on the faces – and sweat on the brows – of thousands upon thousands of young Montrealers.
"First off this is not just a camp for super athletes," says Perry Karnofsky, Manager, Campus Recreation. "We're just trying to expose kids to the joy of moving and playing. We always tell our staff if a child can leave here at the end of the day and they can run a little better, throw a little better, catch a little bit better and they have learned something about sportsmanship then we've done our job."
Running from June 23 to August 15, the eight-week camp is for kids from six to 15, with boys and girls being placed in different groups. People can register for as many weeks as they want.
Like its competitors, the McGill Sports Camp offers traditional activities like soccer, ball hockey and swimming. "We have a full-time aquatics staff that have two section heads and 11 instructors who work with the Olympic Way swim system," says Karnofsky. "Each day, the kids get a 45-minute swim. The first half hour is swim instruction in the last 15 minutes is free swim."
But what sets the McGill Camp apart is how it gives kids the chance to discover a whole range of more exotic sports, including fencing, lacrosse, field hockey and European handball. Varsity athletes – sometimes among the best in their discipline in Canada – help coach their respective sport, giving kids the benefit of their experience and expertise.
"A lot of it depends on the staff application process," says Karnofsky. "If an instructor has a specific skill – perhaps they have a background in judo or cricket or ping pong – we're flexible enough to work that activity into the program."
Unlike many day camps, which often employ younger counselors who don't have a lot of experience working with children, McGill Sports Camp's staff is predominantly made up of students and graduates of the Department of Kinesiology & Physical Education who have experience in childhood and adolescent education and McGill's own intercollegiate coaches and athletes.
"The maturity of our staff is a great advantage. They've had lots of experience working with children. They know how to deal with whatever situation comes up," says Karnofsky. "From the parents perspective, a lot of them take comfort in knowing that they're leaving their child in the hands of university-age students as opposed to the younger, less experienced instructors that a lot of the community camps employ."
And then there are the facilities. Rather than just an open field and a stuffy gym in which to cram 60 kids on a rainy day, the McGill Sports Camp has full access to the entire sports complex, including Molson Stadium, Forbes Field, four gymnasiums, the Tomlinson Fieldhouse (and its four tennis courts and indoor track), the 25-metre pool, and a host of combat rooms, mind/body studios and 12 squash courts. All of the indoor facilities are air conditioned, so campers can beat the heat on some of those notoriously muggy Montreal summer days.
"There aren't many facilities that can compare to ours," says Karnofsky. "If it's too hot or if it's rainy and you're scheduled to play soccer at Molson Stadium, chances are you'll come and play soccer in the Fieldhouse. It's business as usual rain or shine."
Registration for the 2014 edition of the McGill Sports Camp is now open. For more information and to register, please go here.