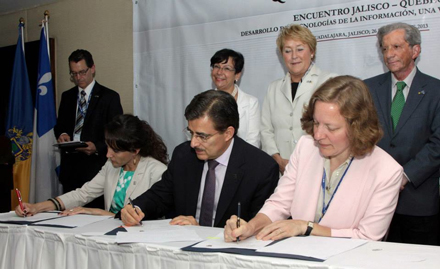 By McGill Reporter Staff
During last week's Quebec economic and trade mission to Mexico, led by Premier Pauline Marois and which included nearly 60 delegates from Quebec businesses and other organizations as well as a dozen representatives from the province's research and higher education community, McGill signed collaboration agreements with two Mexican universities.
With the University of Guadalajara, the University signed a Memorandum of Understanding (MOU) to establish collaborative relations and to agree to cooperate with each other in the exchange of faculty and/or administrative staff; joint research activities and publications; participation in seminars and academic meetings; special short-term academic programs; short and medium-term research visits for graduate students and postdoctoral fellows; the exchange of undergraduate students, and the exchange of academic and scientific materials and other information.
With the Universidad Nacional Autónoma de México (National Autonomous University of Mexico) McGill signed a Letter of intent to encourage the creation of a Student exchange Program, and to promote mobility and research stays between faculty members and researchers, organize conferences, symposia and joint academic programs, and plan and execute joint research projects.
"It was an honour for me to represent McGill during this mission as we worked with our partners from government, industry and academia to strengthen Quebec's links and collaborations in Mexico," said Professor Sarah Stroud, Associate Vice-Principal (Research and International Relations). "Signing formal agreements with two leading Mexican universities, UNAM and Guadalajara, aligns well with McGill's goals – which are shared by our provincial colleagues – of expanding international research collaborations, attracting top foreign students, and drawing on the multicultural character of the McGill community to support a global agenda for Montreal, Quebec, and Canada. These new MOUs promise to accelerate such strategic collaborations, ultimately benefiting researchers and students in both countries."
The Mission to Mexico was Marois' first since being elected Premier last fall. In 2012, Mexico was Québec's fifth largest international trading partner and first in Latin America.