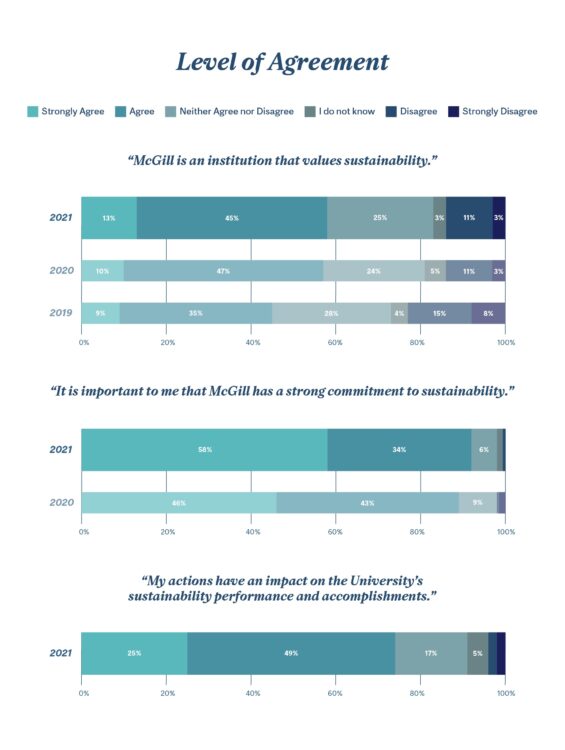 Most McGill community members hope to become involved in sustainability on campus, results from the 2021 Sustainability Survey show.
More than 3,000 McGillians responded to the Survey, administered by the Office of Sustainability in late 2021, providing a pulse check on the community's perception of sustainability, on campus and beyond. Variations of the Sustainability Survey have been circulated annually since 2019 to gauge community interest in and awareness of ongoing sustainability initiatives.
"Understanding our community's perception of sustainability is integral to our work as we shape the future of sustainability at McGill," says Executive Director of Sustainability Francois Miller. "I extend my deepest thanks to all those who took the time to share their thoughts."
The 2021 Survey saw a jump in overall interest in sustainability on campus, with 92 per cent of respondents saying they believe that it is important that the University has a strong commitment to sustainability. Even further, 74 per cent of McGillians believe that their actions have an impact on the University's sustainability performance.
Similarly, the McGill community expressed a desire to be involved. Nearly a quarter of staff said they have already been involved in a sustainability project or initiative, and over two-thirds of students and more than half of staff and faculty said they would like to attend a sustainability-oriented event, workshop, or training.
Keeping the conversation going
Like in past years, waste reduction proved to be top of mind for the McGill community, with many expressing their desire for more resources to support sustainable waste habits.
Since the circulation of the 2021 survey, compost collection has begun in nine academic buildings on the downtown campus, with expansion to an additional 18 buildings planned for early 2022. The new infrastructure is set to collect at least an additional 100 tonnes of organic waste per year and will be complemented by a new waste education program, in development by the Office of Sustainability.
Survey respondents equally expressed an appetite for hearing more about the University's own sustainability commitments, with a desire to remain involved in and updated on the implementation process.
The 2020-2021 Climate & Sustainability Annual Report, released in October 2021, highlights sustainable progress made across the eight categories of the Climate & Sustainability Strategy and McGill's Sustainability Projects Fund (SPF). A detailed progress report focused on the Climate & Sustainability Strategy will be published in 2023, reflecting on the first two years of its implementation.
To learn more about the University's sustainability initiatives and how to get involved, visit mcgill.ca/sustainability and sign up for the Office of Sustainability's monthly newsletter.