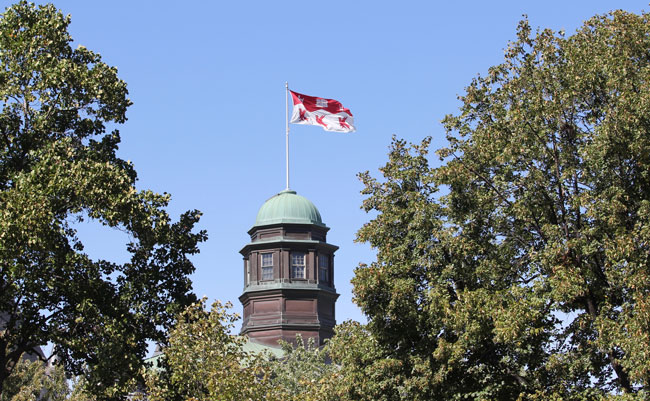 Fifteen McGill researchers have received federal grants through the Canada Foundation for Innovation's (CFI) John R. Evans Leaders Fund (JELF). Minister of Science and Sport, Kirsty Duncan, made the announcement today at the University of Western Ontario. Each McGill recipient will also receive matching funds from the Quebec government for their research endeavours.
JELF was established to help universities attract and retain the best and brightest researchers from around the world by giving them access to cutting-edge research tools. JELF offers institutions the opportunity to acquire infrastructure for their leading research faculty to undertake cutting-edge research; and to create competitive research support packages in the form of infrastructure and a portion of the operating and maintenance costs from the CFI, coupled with direct research costs from partner organizations.
"The latest CFI investments provide our researchers with the foundational infrastructure needed to become leading-edge contributors in diverse research fields ranging from mechanical engineering to dermatology," said Martha Crago, Vice-Principal (Research and Innovation). "We are very grateful to the federal and provincial governments for this essential support which helps attract the best scientific minds to McGill."
Among the recipients of the CFI's investment is Prof. Eric McCalla of the Department of Chemistry. The infrastructure provided by the CFI funding will support Prof. McCalla's efforts to improve batteries in electric vehicles and to develop off-grid energy storage solutions to maximize on intermittent renewable energy sources like solar and wind power. This research has the potential to help generate sustainable energy by aiding in the widespread implementation of electric vehicles and better quality batteries at a lower cost.
Prof. Nagissa Mahmoudi of the Department of Earth and Planetary Sciences also received a CFI investment today to understand molecular-scale mechanisms and microbial processes that govern biogeochemical transformations and control carbon cycling in the ocean. The information produced through this research will have direct applications for predicting the impacts of climate change on carbon fluxes and aid in developing strategies to mitigate and adapt to future environmental conditions.
Complete list of McGill's JELF awardees: