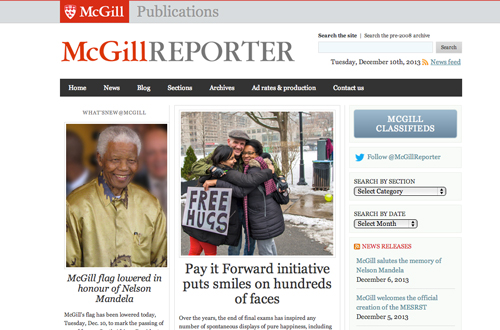 With 2013 drawing to a close, the McGill Reporter is coming to the end of its first year as an online journal and, thanks to the magic of the Internet, we have been able to gather data on everything from how many people stopped by for a read to how long they stayed to where in the world they were when they clicked on one of our stories.
We don't like to brag, but the numbers are pretty good. By year's end, we will have had over 570,000 page views, with readers checking in from 213 countries or territories worldwide, ranging from Aruba to Zimbabwe.
Not surprisingly, Canada was the main country of origin for Reporter readers in 2013, but other countries in the Top 10 included (in order) the United Sates, the United Kingdom, France, Australia, India, Germany, the Netherlands, China and Sweden. Not bad for a newspaper that in 2012 had a print run of 7,500 papers per issue and was found almost exclusively in newsstands around campus.
The Reporter started 2013 with a bang, albeit it a soggy one, with our coverage of the massive flood that tore through the downtown campus in January when a major water main broke during construction on Dr. Penfield. We had over 100,000 page views that month – and a one-day record of 35,805 on Jan. 28 – with people checking in to get updates on cleanup efforts, office relocations and class cancelations and rescheduling.
Our most viewed story was A revolutionary new 3D digital brain atlas, written by Anita Kar. Published on June 26, the article highlights BigBrain, the first 3D microstructural model of the entire human brain. Created at the Montreal Neurological Institute and Hospital of the McGill University Health Centre in collaboration with researchers at Forschungszentrum Jülich, Germany, the BigBrain model is free and publicly available to researchers worldwide. To date, the article has been viewed over 44,000 times – outdistancing the next closest Reporter article by a whopping 28,000 views.
We've compiled a year-end Top 10 list of most-viewed Reporter stories that you can see below. On it you'll find everything from groundbreaking research and a Q&A with Dean Spade, a lawyer and civil rights activist, to Convocation photo galleries and stories about the McGill students who won the $1 million Hult Prize and another who literally drove around the world to get to his first class. The eclectic nature of the list points to the incredible scope of interest and activity of the McGill community.
Top 10 Most-Viewed McGill Reporter Stories for 2013
1.  A revolutionary new 3D digital brain atlas, was the runaway winner for most-read McGill Reporter story in 2013 with over 44,000 page views to date.
2. Desautels MBA team wins 2013 Hult Prize competition has drawn over 16,000 readers. Published on Sept. 25, the article reported on the five-person team of MBA students from the Desautels Faculty of Management that won the 2013 Hult Prize competition, a social-entrepreneurship award for students, which includes $1 million in seed capital. The winning project involves the production, processing and promotion of insects for human consumption as a means to empower urban slum communities by offering them better access to an efficient, sustainable source of protein and nutrients.
3. With just under 15,000 page views, 2013 Spring Convocation in pictures, was the third most popular Reporter story in 2013. The 45-picture gallery included shots from both Macdonald Campus and downtown ceremonies.
4. Students, prof, team up to battle floodwaters has been viewed over 10,000 times to date. The story, published on Jan. 30, reported on some quick-thinking McGill students and a professor who built a makeshift dam to divert a violent torrent of water away from McConnell Engineering after a water main broke at a construction site on Dr. Penfield.
5. On Nov. 11, thousands of Montrealers came to lower campus to take part in this year's Remembrance Day ceremonies. The Reporter article and photo gallery, Remembrance Day: Montrealers come to McGill to pay their respects has had over 5,000 views.
6. One of the quirkiest – and most adventurous – Reporter stories was also one of its most well read. McGill or bust: Father-son team drive around the world to get to University tells the story of the father-son team of Edward and Graham Durgan as they drove around the world from Littlewick Green, in the English county of Berkshire to Montreal to get Edward to school in time to start his first semester in Political Science this September. In all, the incredible three-month odyssey covered 18,000 kilometres, 14 countries and 42 cities. The article racked up some impressive mileage of its own, getting more than 5,200 page views.
7. Four Burning Questions for Dean Spade, professor, lawyer, civil rights activist, posted on April 8. In an interview with the Reporter prior to the Radical Formations: Sex, Race, Trans event in which he was a panelist, Spade discussed same-sex marriage, trans activism and the problem with hate crime laws. The interview has drawn more than 4,500 views.
8. Top sites for new students. Posted on Oct. 20, and running down some of the most useful McGill websites for new students, this article has had almost 4,300 views.
9. Ah, people love nice pictures of happy grads. Picture perfect: A gallery of photographs from Fall Convocation, published on Nov. 28, has been viewed 4,000 times to date.
10. Rounding out the Reporter Top 10 for 2013 list is McGill Dobson Cup nurtures entrepreneurial ecosystem, posted on Nov. 13. Coverage of the reception to celebrate and promote the McGill Dobson Cup competition for budding entrepreneurs. And, yes, the article is accompanied by a photo gallery.