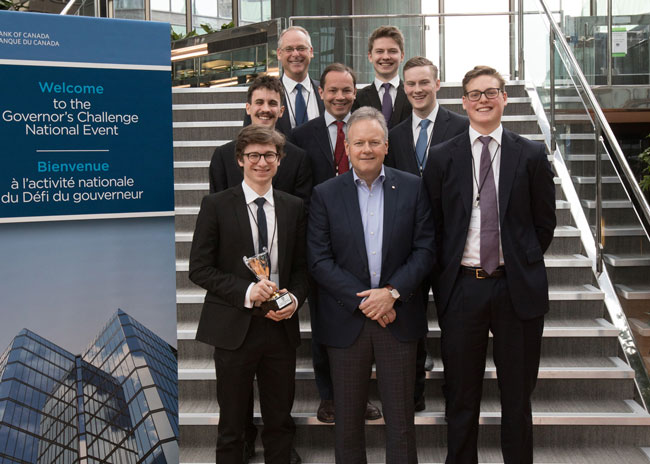 It may not quite be on the same level as Tom Brady and the New England Patriots, but McGill's Department of Economics is starting to develop a winning reputation. On Saturday, Feb. 4, a team of five Econ undergrads won the Bank of Canada's Governor's Challenge. Winner of last year's inaugural event? A team from McGill's Department of Economics.
Despite the win streak, this year's victory did not come easily. "We honestly thought we wouldn't win, because we had heard that the other teams' presentations were really good, so it was a real surprise when the Governor of the Bank announced the winners," says Jules Boudreau, an undergrad in Economics and International Development, and a member of the McGill team. "We are all extremely happy, especially considering the amount of work we put in."
Along with Boudreau, McGill's winning team was comprised of Eric Blachut, Baptiste Cumin, Kurt Vogt Gwerder and Ludovic van den Bergen, along with academic advisors Professors Chris Ragan and Francisco Ruge-Murcia.
The Governor's Challenge sees teams of undergraduate students in economics and finance give presentations on the economic outlook and make monetary policy recommendations to the Bank's Governing Council, represented by a panel made up of senior executives from the Bank and the private sector.
For the 2016–17 edition of the Governor's Challenge, 24 universities from across the country participated in the preliminary round of presentations held in November. Five teams were selected for the final round, representing Wilfrid Laurier University, McGill, the Université de Sherbrooke, the University of Toronto and the University of Waterloo.
"For the competition, we had to put together a 15-minute presentation on the global and domestic forces that are currently affecting the Canadian economy and project what the economy will look like over the next three years," says Eric Blachut, 4th year, Honours Economics. "We then had to use this analysis to give a policy recommendation for the Bank. The bank itself does a very similar analysis every quarter, looking at the Canadian economy and then deciding on policy actions to fulfill their mandate of controlling inflation."
And why was McGill's presentation so successful?
"We focused on creating a clear, digestible presentation. Our mentors emphasized the importance of storytelling to guide the judges through our thinking," says Baptiste Cumin, U3 Honours Economics. "I think our presentation clearly prioritized the driving forces behind inflation and GDP growth in Canada."
Boudreau agrees, noting that their winning presentation ("extremely tight and polished") was the result of teamwork and relentless preparation. "We practiced dozens of time, and critiqued each other's part constantly," he says. "I changed my part 10 times in the week just before the contest.
"But what separated us from the other teams was our answers to the questions the judges asked after the presentation," says Boudreau. "Our extensive research allowed us to answer the questions in a logical and complete way."
That research began months ago, as individuals and together as a team. "I started reading monetary policy reports and doing research as early as last August," says Cumin. "During the year, we met for a couple of hours every week and worked for many more hours on our own. From September to November, we sifted through hundreds of datasets looking for economic trends and met with our mentors to talk about what we should incorporate into the presentation. We then practiced our presentation over, and over again up until we knew all our parts verbatim."
On top of keeping McGill's undefeated streak in Governor's Challenges alive, the project allowed participants to apply their studies in new and practical ways. "It is very instructive to have the chance to apply the theory we have learned – for example in macroeconomics and econometrics – to real world, current data," says Blachut. "Learning about the policy-making process is itself interesting, as you have to distill down lots of different models into a concise story to support your recommended action."
In the end, the team was presented a trophy from the Bank of Canada's Governor Stephen S. Poloz in the Bank's head office in Ottawa. It was a modest trophy, much smaller than the one the Patriots' Tom Brady would hoist the very next day at the end of Super Bowl LI. But the sense of pride for a job well done and the feeling of accomplishment is not diminished by the size of the prize. "I couldn't wipe the grin off my face," says Cumin on the team's victory. "It's a great way to cap six months of work."