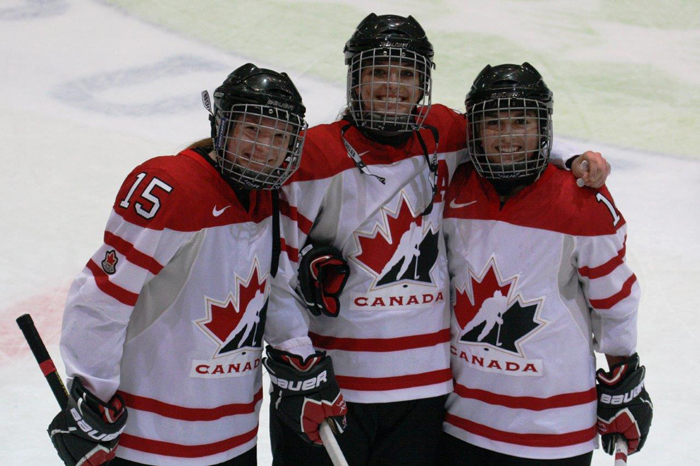 Will face Russia in gold medal game on Dec. 20
By Earl Zukerman
Gabrielle Davidson of Pte. Claire, Que., netted her third hat-trick of the tournament as Canada skunked Japan 15-0 in a women's hockey semifinal at the FISU World University Winter Games, Wednesday.
It was the second win over Japan (3-3) in three days for the CIS all-stars (6-0), who beat the same opponent 9-1 on Monday to finish first in round-robin play. In Friday's gold-medal match at 2 p.m. EST (8 p.m. Trentino), the Canadians will face Russia (4-2), a team they blanked 5-0 in preliminary round action on Dec. 12.
The Russians edged the United States 3-2 in the other Final Four matchup, earlier on Wednesday.
Davidson scored once in each period to up her tournament-leading totals to an eye-popping 13 goals and 21 points in six contests. She combined with her two McGill teammates for 11 points in the contest. Brittney Fouracres, a third-year rearguard from Calgary, tallied five points, including one goal and posted a game-high plus-8 performance. Katia Clement-Heydra of St. Bruno de Montarville, Que., potted two markers and added a helper.
Canada, which has a 50-8 margin in shots, played a penalty-free affair for the third time in the tourney. They led 3-0 after one period and 8-0 after two before exploding for seven markers in the final frame. The Canucks went 1-for-3 on the power-play.
"Every game we seem to get a little stronger, which was our goal from the beginning. The more time we spend playing together, things seem to be coming a lot easier," said Team Canada head coach Howie Draper from the University of Alberta. "We talked about psychological momentum as a team, and I think we had that in this game. It was important for us to jump out to a good start against Japan so that we can carry on from where we left off in the previous contest. We were able to successfully do that, which put the Japanese players at a disadvantage."
Amanda Parkins, a Kitchener, Ont., native from the University of Guelph, led all players with five points, including four assists. Other leading point-getters were StFX's Alexa Normore (2-2-4), Kim Deschenes (2-1-3) of the Montreal Carabins and UBC's Tatania Rafter (2-1-3). Rounding out the scoring with one goal apiece was Josianne Legault of the Carabins and Laurier's Laura Brooker.
Canadian netminder Kelly Campbell, who usually stops pucks for Western, kicked aside eight shots for her third whitewash in as many starts. The London, Ont., native also defended the Canadian net perfectly against Russia and Great Britain.
At the other end of the ice, Japan starter Hazuki Maeda allowed four goals on 17 shots and was saddled with the loss. She was replaced after 24 minutes by Yae Unosawa, who was beaten 11 times on 33 shots.
Canada is aiming for its third Universiade title in as many tries, after winning the inaugural FISU tournament in 2009 in Harbin, China, and repeating two years ago in Erzurum, Turkey. The Red & White is 20-0 all-time at the biennial competition and has now outscored its opponents by a 169-12 margin overall.