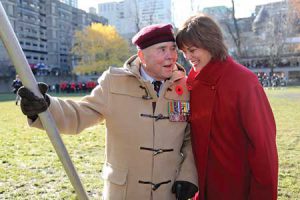 By Everett Martin
The solemn commemoration of Canadians who have fought and fallen in battle is never a happy event, but it can be inspiring, as was proven at Montreal's biggest Remembrance Day event, held on Friday, Nov. 11 at McGill.
The previous day's rain had left the lower campus field just wet enough to capture an impressive variety of boot prints from hundreds of military members, past and present, who attended the ceremony. Rain was no issue on this day, though. The sun shone brightly, making sunglasses a popular part of any uniform.
The parade of veterans, soldiers, and members of the community was piped in, and many attendees stood at attention as speeches were made, prayers were said, and the sparse, sombre refrain of The Last Post echoed throughout the otherwise silent campus.
That silence was later epically shattered by the first blast of the 21-gun salute that seemingly shook the whole campus. While many of the civilians in attendance flinched or gasped with each shot, the veterans from age 18 to 98 were unfazed. A number of students, who had avoided being roused from their textbooks and laptops by the bagpipes and drums, decided that studying during the cannon fire was futile, and filed out of the McLennan Library to join thousands of their fellow students, staff, and faculty who were already watching outside.
As the guns kept firing, and the pipe bands and wind ensembles exchanged tunes, a total of 43 traditional poppy wreaths were laid by veterans, soldiers, children, students and others in front of a replica cenotaph, to commemorate the dead.
Wreath layers also included diplomatic delegations from England, France, Korea and the United States, as well as local officials like Montreal mayor Gerald Tremblay, MP and former astronaut Marc Garneau, and McGill Principal Heather Munroe-Blum.
A McGill Veteran Reflects
"I enlisted straight out of high school with a lot of other young Canadians, to fight in World War II," recalls Mr. Harold Fairhead, known by pretty much everyone as 'Shorty'. "War isn't fun, and we knew that, but we honestly couldn't wait to get out there and fight."
As a member of the Air Force at the end of WWII, Shorty didn't see direct combat. At the end of the war, he enrolled at McGill and studies Physical Education for a few years before transferring to Arts, where he graduated in 1951. Looking back, he remembers his experience at McGill fondly: "I majored in sports and minored in chasing nurses."
Shorty was indeed quite an athlete, and after graduation, he and many of his football teammates enlisted to fight in the Korean War, this time with the army. He  was stationed as a lieutenant in the Royal Canadian Regiment, which meant he fought on the ground.
"Korea was a very different kind of conflict," says Shorty, who was wounded while serving as a lieutenant both in 1952 and 1954. "It was essentially trench warfare. Our average day consisted of shelling the enemy, or being shelled. That was it."
Thousands of McGillians like Shorty have fought in wars in the name of Canada. Many of them have died. Remembering their sacrifices, for everyone in attendance that day, was an honour.