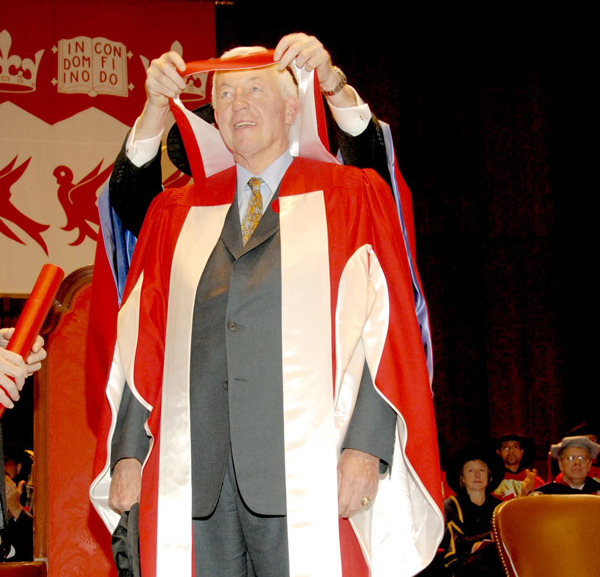 McGill University joins countless others in expressing sincere condolences to the family and loved ones of Montreal Canadiens hockey legend Jean Béliveau, who died Tuesday, Dec. 2, at age 83.
On Nov. 10, 2006, the University conferred an honorary doctor of laws degree upon Mr. Béliveau in recognition of his superb skills as a professional athlete, as a leader both on and off the ice, and as a tireless philanthropist following his retirement as a player in 1971.
In honour of this remarkable gentleman and exemplary Canadian, McGill's flag will fly at half staff until his funeral at Mary Queen of the World cathedral on Wednesday, January 10.
To watch Jean Béliveau's Convocation address to the Class of 2006, click on the video below.
—————————————————————————————————————————————–
McGill présente ses condoléances au décès de Jean Béliveau
L'Université McGill se joint à des milliers d'admirateurs afin d'offrir ses plus sincères condoléances à la famille et aux proches de Jean Béliveau, légende de hockey des Canadiens de Montréal, décédé le mardi 2 décembre, à l'âge de 83 ans.
Le 10 novembre 2006, l'Université a décerné à un doctorat honorifique en droit à M. Béliveau, en reconnaissance de ses formidables qualités à titre d'athlète professionnel, tant sur la glace que dans les autres sphères de la vie, ainsi que pour souligner les inlassables efforts qu'il a fournis dans le domaine philanthropique, une fois qu'il a pris sa retraite en 1971.
En l'honneur de cet homme et Canadien d'exception, le drapeau de McGill sera en berne jusqu'a ses funérailles, le mercredi 10 décembre à la Cathédrale Marie-Reine-du-Monde.
Visionnez le discours de Jean Béliveau pour la collation des grades en 2006, en cliquant sur le video.