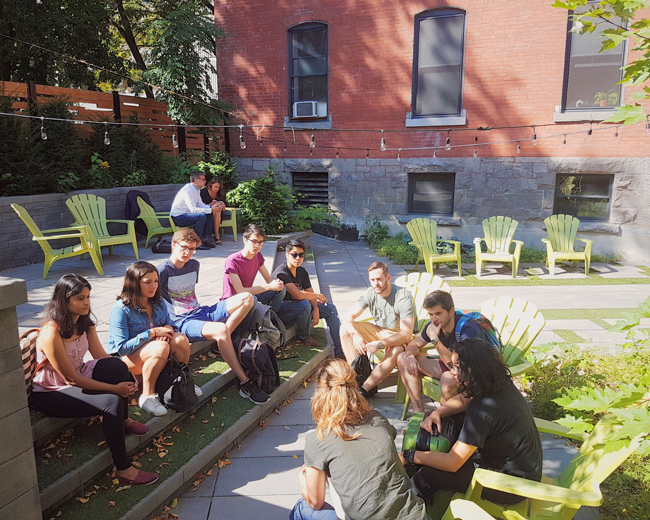 By Meaghan Thurston
One year ago, the McGill Innovation Collective announced the McGill-Notman Partnership, a startup-space pilot at Notman House, the historic building turned startup tech hub in the heart of Montreal's downtown. By October of 2016, five McGill-companies were already busy at work. Fast forward to now: four distinct cohorts – more than 20 start-up companies – have set up shop in the McGill Room at Notman House during their four-month residencies.
The McGill-Notman Partnership offers short-term residencies to cofounders affiliated to McGill either as students, alumni, or as staff or researchers. During their residency, companies have access to resources such as office space, mentoring sessions and workshops dedicated to start-ups.
The current cohort is as diverse as it is ambitious. Among the founders is Tessa Battistin of Asset Designs, a socially conscious garment brand and one of the newest residents of Notman House. A recent McGill graduate inspired by her desire to fill wardrobes with sustainable and affordable fashion, Battistin is eager to take her start-up to the next level. "When I saw that the McGill Innovation Collective was offering residencies at Notman House, I jumped at the opportunity to apply," she said. "I love the space and it's especially nice to share it with other McGill start-ups. Being a part of this community is making my experience as a start-up founder a lot less lonely."
Among the intangible benefits of the McGill-Notman Partnership is spending time among a community of like-minded individuals. "Adequate workspace at McGill for spin-offs and start-ups to co-evolve is in short supply," said Eduardo Ganem Cuenca, one of the McGill Room coordinators. "The McGill Room at Notman House directly connects McGill's founders to the contagious start-up energy at Notman House, which in turn helps propel their businesses forward and gives them an opportunity to 'troubleshoot' roadblocks with likeminded entrepreneurs."
This is a sentiment strongly shared by McGill-Notman resident Sean Reid, co-founder and CEO of GradLounge, an online academic platform aimed at promoting knowledge sharing between graduate students. "Much of our success to date is a result of sharing space at Notman, including sharing the trials and tribulations of running a start-up. The McGill Innovation Collective, the Department of Neuroscience at McGill and the McGill Dobson Centre for Entrepreneurship have been critical to launching this venture." GradLounge was one of the successful applicants to an earlier McGill-Notman residency that has extended their occupancy at the start-up hub.
At the one-year anniversary of the McGill-Notman Partnership, the importance of collaboration between universities and the start-up community in Montreal is evident to Emma Williams, Campus Director of Notman House. "Our goal at Notman is to bring all the universities in Montreal together in one physical space and witness the creativity and connections that occur," she said.  "We've already had dozens of really interesting and high-potential companies working in our space as a result of the McGill-Notman Partnership and we look forward to meeting the companies in  future cohorts."
The call for applications for the next cohort of residences will go live in December. Teams joining the current cohort (September – December), along with returning teams GradLounge and CenterFold, at Notman House includes:
Dialysave
Dialysave is an affordable, user-friendly and portable hemodialysis machine designed for Chronic Kidney Disease patients who require renal replacement therapy in developing nations.
Rawlin
Rawlin is the first student-run organization communicating the importance of eating responsibly to the leaders of tomorrow: students. A three step process (Eat, Learn, Change), provides students with life-changing experiences to shift their eating habits.
Asset Designs
Asset Designs uses silkscreen printing to offer an artistic alternative to mass-produced garments.
aifred health
aifred health is a venture dedicated to improving mental healthcare with the use of artificial intelligence in a clinical decision aid for physicians to personalize and improve treatment efficacy.
Scholarly
Scholarly is a web application that matches students with scholarships and lets them apply right on the site.