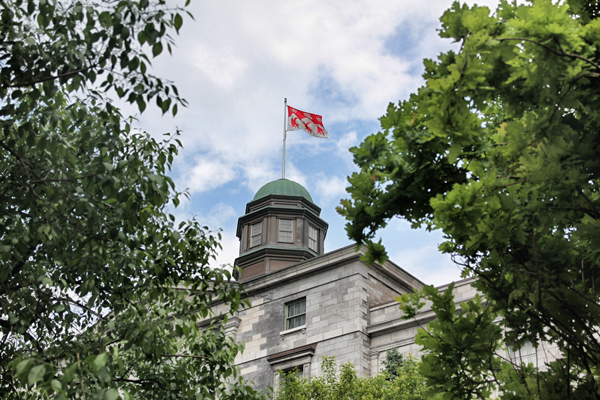 By McGill Reporter Staff
For the seventh consecutive year, McGill has been named one of Montreal's Top Employers, as selected by the editors of Canada's Top 100 Employers.
Evaluators noted that University employees are encouraged to continue their education through full tuition subsidies for courses related and not directly related to their respective positions. As well, McGill provides academic scholarships to children of employees pursuing post-secondary studies. To keep its workforce as robust physically as it is intellectually, the University provides employees with subsidized memberships to the University's fully equipped athletics centre.
"We are proud to rank among Montreal's Top 30 Employers for seven years straight," said Lynne B. Gervais, Associate Vice-Principal (Human Resources). "While we are in a challenging period with tight resources, we are still able to maintain a generous benefits package, which includes our health and wellbeing program, to help employees achieve balance in their work and personal lives."
The University also earned high marks for helping employees plan for the future with retirement planning assistance, phased-in work options when nearing retirement, and employer contributions to a defined contribution pension plan.
As well, it was noted that McGill supports its new mothers with maternity and parental leave top-up payments (to 95 per cent of salary for 20 weeks) and offers an option to extend their leave into an unpaid leave of absence. Adoptive parents are provided with parental top-up to adoptive parents (to 100 per cent of salary for 10 weeks). And, when new parents are ready to return to work, they can take advantage of the onsite daycare.
Now in its 11th year, Montreal's Top Employers is an annual competition that recognizes the Montreal-area employers that lead their industries in offering exceptional places to work. The criteria used during the selection process focuses on physical workplace; work atmosphere; health, financial and family benefits; vacation and time off; employee communications; performance management; training and skills development; and community involvement.
Employers are compared with other organizations in their field to determine which offers the most progressive and forward-thinking programs.