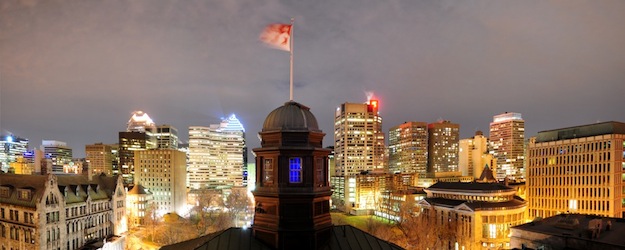 By McGill Reporter staff
In the wake of reports about three McGill students being charged with sexual assault arising from an incident in September 2012, the University is moving to address concerns expressed by different groups and individuals in the community who felt the University's response to the incident was inadequate.
The three accused students were all members of the McGill Redmen football team (they have since resigned from the team) and the incident is alleged to have occurred off campus and involved a woman who was then a Concordia student.
Deputy Provost (Student Life and Learning) Ollivier Dyens addressed the community's concerns in a message to all staff and students last week and pledged to improve McGill's efforts to not only ensure that the University responds appropriately, but to also reduce incidents of sexual and other assault.
"In light of many thoughtful comments received from members of our community, we have reviewed the situation and have decided to implement a series of measures to address some of the concerns many students and student leaders have brought to our attention," Dyens said. "McGill will take concrete steps to improve its support for survivors of sexual assault and its response to incidents of sexual assault and other forms of harm. Here are some specific measures we will take in the very near future."
New coordinator
Dyens said McGill will hire a new, full-time Coordinator, who will report to Dean of Students Andre Costopoulos, to encourage even more strongly the culture of mutual respect and understanding on McGill campuses.
This individual will expand existing programming, like Rez Project, and work collaboratively with others, including the student-run Sexual Assault Centre of the McGill Students' Society (SACOMSS), to effect change.
In addition, Dyens has set up a public forum to be held in mid-January on the issue of consent in matters sexual. This event, which all will be encouraged to attend, will be co-chaired by SSMU Vice-President (University Affairs) Joey Shea and by Carrie Rentschler, William Dawson Scholar of Feminist Media Studies and Director of the McGill Institute for Gender, Sexuality and Feminist Studies.
And starting next fall, McGill will hold an annual Dean of Students Forum on Safe Space in October, Dyens said. This is aimed particularly at "sensitizing new students to the importance of maintaining a safe and respectful community environment."
Dyens said McGill's policies and procedures are not set in stone. "Our policies and procedures are dynamic, living documents. The current debate on our campuses arising from the incident in question causes us to reflect on these. We will evaluate our response to the incident in question.
"Our Disciplinary Officers have already been considering and clarifying the definition of what is meant by 'the McGill context' in connection with disciplinary matters. As a community we will also continue to evaluate the role, responsibilities and obligations of all students who serve as role models and ambassadors for the University; we will encourage discussion of this matter across our campuses. The Athletics Advisory Board has scheduled a discussion of this issue."
McGill, Dyens said, takes matters such as sexual assault extremely seriously. "When allegations are brought to our attention, measures are taken to support survivors and incidents are investigated promptly. Our Charter of Student Rights guarantees a safe and secure physical and psychological learning environment and we work hard to maintain it.
"We do not and will not tolerate any form of violence on our campuses and, as noted above, we will take proactive measures to ensure that our community values respect for others, both on and off campus."
Presumption of innocence
At the same time, Dyens said, McGill believes in and is bound by the presumption of innocence and an accused's right to due process. This is not mutually exclusive to our taking allegations of sexual assault seriously, he said, or for providing support for survivors.
"Our students' security and well-being are a constant concern for us," Dyens concluded.
"We work hard to provide a peaceful and stimulating environment to the McGill community and to its neighbours. We thank every member of our community who has invested time and energy in challenging us to find ways to improve upon what we do."