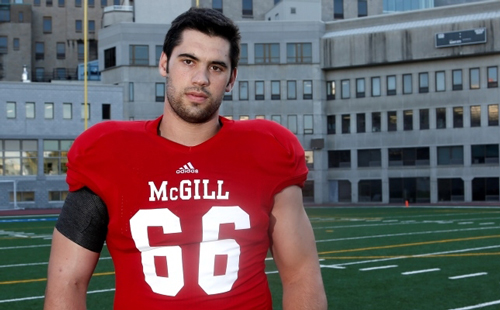 By Earl Zukerman
Laurent Duvernay-Tardif, an offensive lineman on the Redmen football team, has added another honour to his impressive, ever-growing resumé. As announced today, the third-year medical student was named to the CIS Top Eight Academic All-Canadian for the 2012-13 season.
The elite group will be honoured at Rideau Hall in Ottawa later this fall.
Every year, a growing number of CIS student-athletes are recognized as Academic All-Canadians, having maintained an average of 80 per cent or better over the academic year while competing for one – or more – of their university's varsity teams.
McGill leads all universities with 18 honorees since this award was initiated in 1993. Rounding out the top producing institutions is Alberta with 12, followed by Dalhousie (11), Manitoba (11), UBC (10), Laval (9), Montreal (7), UNB (7) and Toronto (7).
In 2012-13, a record 2,695 students achieved the prestigious status, eclipsing the previous mark of 2,617 set a year ago.
Among these outstanding individuals, one female and one male student-athlete from each of the four CIS regional associations are selected annually to make up the Top Eight.
Joining Duvernay-Tardif as the other conference nomination from the Réseau du sport étudiant du Québec is Montreal Carabins soccer player Émilie Chamard another medical student.
Duvernay-Tardif has been dominant since the day he joined the Redmen in the fall of 2010. Named McGill's most outstanding lineman in his sophomore season, he exploded on the national scene a year ago when he was voted team MVP and a first-team all-Canadian at offensive tackle. After suiting up in the CIS East West Bowl last spring, the 6-foot-5, 305-pound co-captain was listed as the top-rated prospect for the 2014 CFL Draft by the league's Scouting Bureau earlier this fall.
The native of St. Hilaire, Que., has been as impressive in the classroom since he arrived on the Montreal campus, meriting CIS Academic All-Canadian status and qualifying for the Principal's Student-Athlete Honour Roll in each of his first three years at McGill. Duvernay-Tardif achieved a perfect sessional grade point average of 4.0 in medicine in 2012-13 and has a cumulative GPA of 3.92. Over the last year, he received McGill's 1938 Champions Award for combining leadership with athletic prowess and academic excellence, as well as a pair of Montreal Alouettes bursaries, for athletic and academic excellence.
The 22-year-old was named to the McGill chapter of the Golden Key International Honour Society for academic recognition, leadership development and community service. He has served as a tutor for McGill students and been one of the football team's volunteer reps at a visit to the Montreal Shriners Hospital for Children as well as the annual McGill Holiday Food Drive in support of the Sun Youth Community Centre. He has also worked with the "Defi Canderel", with a Montreal police department program known as "Unité sans violence, exprimez-vous!", as well as with heroin addicts at a methadone clinic. Finally, as part of his medical curriculum, he served countless hours in family medicine at various hospitals.
"Laurent has a tremendous work ethic and a quiet confidence that make him a natural leader," says Clint Uttley, head coach at McGill. "He is a strong candidate for both the J.P. Metras and the Russ Jackson trophies. Size and strength is a big factor in success on the o-line but when you find someone that possesses the combination of brains, brawn and nastiness that Laurent has on the field, then you've got a real keeper and he has all those tools. I believe that he will have a good pro career, whether it be in the CFL or NFL."
Five CIS universities had 100 Academic All-Canadians or more last year, including Western (132), Waterloo (118), Alberta (117), Laval (111) and Dalhousie (100). Rounding out the national top 10 were Calgary (99), Queen's (98), Acadia (91), Manitoba (91) and UNB (87).
"Our student-athletes continue to amaze us with their ability to achieve excellence on and off the playing field," said CIS chief executive officer, Pierre Lafontaine. "The record number of Academic All-Canadians once again this year speaks volume about the quality of our students, but also our coaches, support staff and our universities. To be selected among 11,000 of their peers is an accomplishment members of the Top Eight should be extremely proud of."
For a recent profile on Duvernay-Tardif in the McGill News, click here.