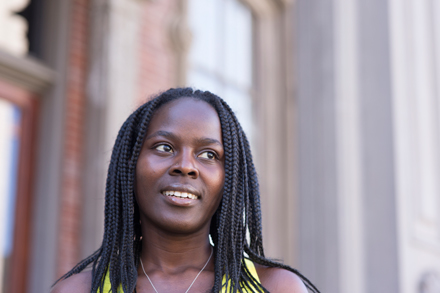 Initiative to develop next-generation of young African leaders will allow McGill to welcome 91 promising students
By McGill Reporter Staff
The next generation of African leaders is on its way to McGill
The University announced today its participation in The MasterCard Foundation Scholars Program, a transformative initiative aimed at advancing social and economic progress in Africa. As part of the Program, McGill will receive $27 million over the next decade to educate academically talented young people from economically disadvantaged communities in Africa, and prepare them to return to their home countries, successfully transition into the workforce, and lead change in their communities.
The MasterCard Foundation Scholars Program will allow McGill to welcome and support 91 promising students from Africa over the next 10 years. These will include 67 at the undergraduate level – up to half of whom will be coming from French-speaking countries – and 24 students at the Master's level. The Program includes comprehensive financial support for the students, as well as leadership development opportunities that reinforce ethics and a commitment to the betterment of students' home communities, mentorship, career guidance, and internships in their home regions during the course of their studies.
McGill joins the University of Toronto and the University of British Columbia as Canadian partners in The MasterCard Foundation Scholars Program – a $500 million global education initiative involving 15 universities and secondary education partners around the world.
McGill will welcome its first cohort of 13 Scholars in the fall of 2013.
"We are absolutely delighted to participate in 'The MasterCard Foundation Scholars Program,' which will support the development of next-generation African leaders while enriching the learning and research that takes place in our own community," said McGill Principal Heather Munroe-Blum. "The Program's values align with McGill's own commitment to include and foster youth who have the potential to lead change in their communities, but lack the financial means to access higher education."
McGill prides itself on being Canada's most international research-intensive university, with 20 per cent of its students coming from as many as 150 countries, including many African nations. McGill's equally diverse faculty are leading programs making a profound contribution to Africa's development and to the productive ties between Canada and Africa. These include research and teaching in areas such as international development, food security and water resources management, global health and parasitology, as well as international law.
Click here for more information about The MasterCard Foundation Scholars Program at McGill.