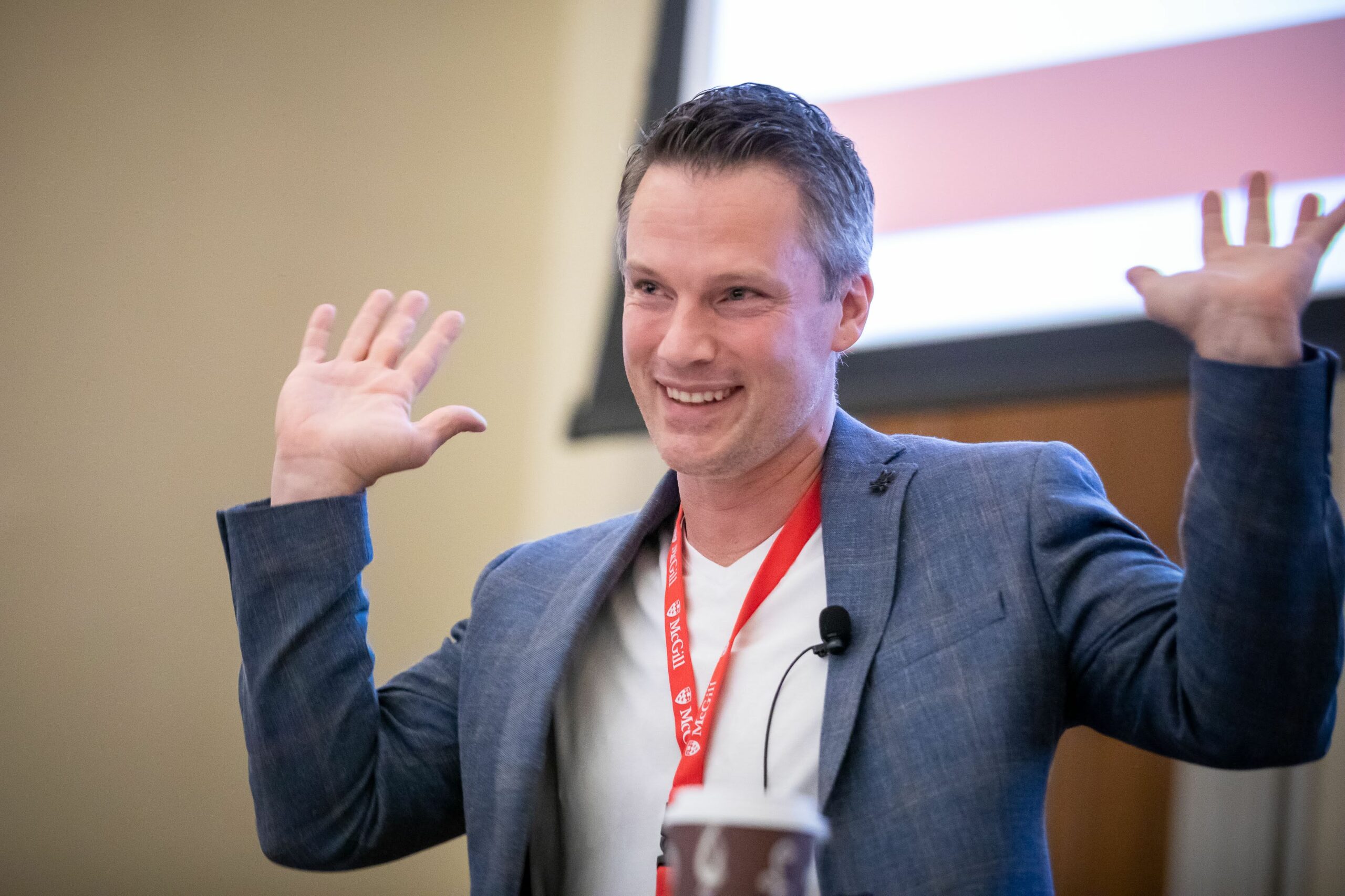 It was a long time coming, but the first in-person networking event for the McGill Innovation Fund (MIF) finally took place last month at the Faculty Club with a crowd of researchers-turned-entrepreneurs, MIF sponsors and other members of the McGill entrepreneurial community. Out-of-use social skills were put back into practice as participants chatted and learned about the various projects that have been selected as the first-ever recipients of MIF funding.
The star of the evening was Desautels MBA graduate and former Olympian Craig Buntin. His story is well-known to some: in the run-up to a possible second Olympic appearance in his hometown of Vancouver for the 2010 Games, a last-minute injury permanently sidelined him from top-level competition. Rather than wallow in disappointment, he simply moved on, eventually completing an MBA, and kicking off an exciting career as CEO of Sportlogiq, a company that provides AI-driven analytics to sports teams and a spinoff from McGill.
Turning a setback into success
How Buntin was able to pivot is the stuff that separates entrepreneurs from the rest of us. Turning yesterday's ashes into tomorrow's opportunities takes not only the well-worn sporting metaphor of intestinal fortitude, but also a good dose of humility. This capacity to pivot was shown before Sportlogiq even started. While still a student, Buntin was targeting the potential of driverless cars as a startup idea, but eventually realized the sport data analytics market was the more feasible opportunity. Again, being able to switch gears was a crucial factor.
Today his company works with almost every NHL team and about half of the teams in the NFL. Buntin explained to the audience that they are also working with the International Skating Union on a project to introduce Artificial Intelligence into the figure skating judging system at the next Olympics. The company roster has reached around 80 full-time employees and continues to expand. In other words, things are good. How he was able to get there certainly made an impression on those present at the event.
MIF adds cleantech prize
Earlier in the evening Mark Weber, Director of the Office of Innovation + Partnerships and the main force behind the MIF kicked things off with a summary of the fund's activities to date, namely the selection of nine recipient teams and the running of a highly interactive support program that matches each team up with a board of external alumni advisors, help from subsidized student interns, and networking opportunities such as this one.
Weber also teased the next edition of the MIF which will officially launch in September. While keeping the core components the same (generous funding across three different tiers, extensive support including access to external advisors), the second edition will also have a new cleantech prize. While details of how the prize will be administered are still pending, it is hoped this will draw out even more applications from across the University. The new prize was made possible through a generous alumni donation.
MIF recipients tell their stories
Many of the recipient teams were on hand to discuss their projects. In particular the PhysioBiometrics team, headed by Professor Nancy Mayo, had their Heel2Toe device on hand and were actively demonstrating its ability to help people improve their ability to walk. The device clips on any shoe and provides immediate feedback to users through a satisfying 'beep.'
Other teams present included PaCS (headed by Professor Allen Ehrlicher), DendroTEK (represented by Jean-Pierre Clement), and Multimeter for the Nano Age (lead by Professor Changhong Cao). More information on all MIF recipients and the entire MIF program, can be found here: https://www.mcgill.ca/innovation/mcgill-innovation-fund/.