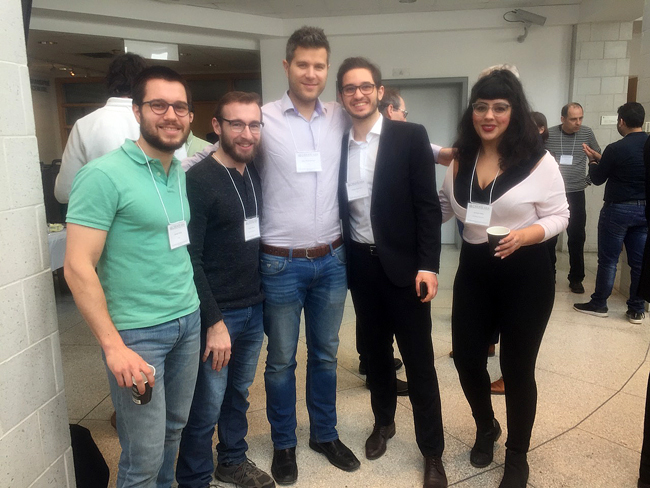 The mood was upbeat as some 60 people gathered to celebrate the conclusion of sixth and last year of the NSERC CREATE Program in Medical Imaging Analysis (CREATE-MIA).  Entitled the 2018 CREATE-MIA Industrial Partner Day: Into the Future, the event highlighted some of the successes of the program, acknowledged the contributions of the industrial partners and looked toward the future, not only in terms of the rapidly evolving technology but also into how the industry/academia collaborations can be maintained and developed.
CREATE-MIA is based at the McGill School of Computer Science under the directorship of Prof. Kaleem Siddiqi.  It also includes professors and trainees from Electrical and Computer Engineering (Prof. Tal Arbel), Biomedical Engineering (Profs Louis Collins and Bruce Pike), Neurology and Neuroscience (Prof. Amir Shmuel), as well as Electrical Engineering (Prof. Cathy Laporte) at ÉTS, and the Département d'Informatique (Prof. Maxime Descoteaux) at Université de Sherbrooke.
The CREATE is an NSERC program which awards successful applicants $1.65 million over six years (at least 80 per cent of which must go to student support) to provide training, over and above that provided by participating trainees' academic programs; to develop their professional skills and increase their job-readiness. According to the NSERC web site "The Collaborative Research and Training Experience Program (CREATE) supports training experiences that help make today's talented students ready for the high-quality jobs in Canada's research and innovation sectors. Companies also benefit by gaining access to potential employees who are eager to apply their knowledge and talents to deliver results that support a strong economy and a growing middle class."
CREATE-MIA is an "industrial stream" program, which means that its trainees must spend 20 per cent of their time in the program doing internships on-site at industrial partners' premises. There, they get to experience the challenges of working in industry first-hand and also to gain some additional skills which they might not otherwise have the opportunity to learn during their academic studies.
Seven Montreal-area companies provided internship opportunities to CREATE-MIA trainees (Elekta Canada, Clemex Technologies, ORS, Rogue Research, NeuroRx, Imagia and CAE Healthcare), as did Imeka (Sherbrooke), True Positive Medical Devices (Quebec City), and Synaptive Medical (Toronto). To date, these companies have hosted over 61 CREATE-MIA internships totalling more than 3,500 internship days which amounts to approximately 14 person-years of on-the-job training.
In looking towards the future of the medical imaging industry, Prof. Doina Precup, a world leader in artificial intelligence, machine learning, reinforcement learning, and reasoning and planning under uncertainty, spoke to the attendees on machine learning for prediction and decision making in medical applications. Prof. Louis Collins moderated a discussion by a panel of experts including Dr. Alexandre Le Bouthillier (Imagia), Dr. Doug Arnold (NeuroRx), Dr. Clement Forest (CAE Healthcare), Mathieu Coursolle (Rogue Research), Jean-René Bélanger (Imeka) on the impact of machine learning and artificial intelligence on the medical imaging industry.
Trainees showcased their research by preparing and presenting posters during the poster competition.  Topics were wide-ranging and included the analysis of data sets to help correct speech defects; tracking the progression of liver cancer; and figuring out how cardiac muscle tissue functions. After intense deliberation, the judges (Norman Marcotte, Director, Science Promotion and Operations, Research Grants and Scholarship Directorate, NSERC; Dr. Doug Arnold of NeuroRx; Francis Quintal Lauzon of Clemex Technologies; and Nicolas Piché of ORS, awarded first place to Francois Rheault (U. Sherbrooke) for his poster entitled Bundle-specific tractography using voxel-wise orientation priors. Second place went toNassim Guerroumi (ÉTS) for Weakly supervised learning for intervertebral disk segmentation in MRI, and third place went to Morteza Rezanejad (McGill) for  3D Medial Representations for Shape Analysis.
A number of program alumni were on hand, sharing their experiences and discussing how participating in CREATE-MIA made an impact on their careers.
"Through this program I was introduced to Imagia, where I did an internship, and am now working," said Damien Goblot. Goblot studied computer vision in the lab of McGill Prof. Siddiqi, and  graduated with an MSc in Computer Science in 2016. He is one of eight CREATE-MIA trainees who received job offers from one of the program's industrial partners starting immediately after graduation. "CREATE-MIA helped me facilitate the internship agreement and work in the industry that is looking for skilled people to analyse images and predict outcomes using algorithms we studied at McGill, said Goblot"
The day provided ample opportunities for industrial partners, CREATE-MIA faculty and trainees, and members of VPRI to network, affirm the value of training programs such as this one, and to start many optimistic and enthusiastic conversations about the need preserve the momentum generated over the past six years to maintain and build upon the invaluable collaborations that were formed with industry to continue providing additional training to students.