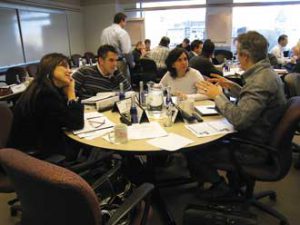 By Chris Chipello
The first graduates of the McGill-HEC Montréal Executive MBA program will soon receive their diplomas. And less than two years after this ambitious joint venture got off the ground, it is quickly carving a mark as one of the world's most innovative EMBA programs.
Students have offered rave reviews, professors from the Desautels Faculty of Management and HEC have embraced the collaboration, and the media are taking notice.
It's not just the seamlessly bilingual flow of the classroom sessions that makes the McGill-HEC EMBA stand out. Its approach to learning draws from Prof. Henry Mintzberg's research into the practice of management, and builds on the management-education approach developed in international programs he has pioneered over the past 15 years.
The participants are managers, entrepreneurs and professionals with at least 10 years work experience, including at least five in managerial roles. The learning, which takes place in a series of eight modules spread over 11 months, draws heavily on their experience.
Careful selection of the 40 or so students who make up each cohort is a key to the program's success, said Desautels Prof. Alain Pinsonneault, who serves as academic director along with HEC Prof. Louis Hébert.
"I interview everyone to make sure they fit," Pinsonneault said. "We're looking for people who are here to learn – from us and from other people." The co-directors also try to "maximize diversity in the class" to include a range of backgrounds: non-governmental organizations, large and small manufacturing companies, service enterprises and small family businesses.
Tuition, set at $65,000 so far, will rise to $72,000 next fall. Roughly one-third of participants are fully funded by their employers, one-third share the cost, and one-third pay individually.
Under the program's "50-50" rule of thumb, half the classroom time involves professors presenting theoretical material to help students frame their thinking; the other half involves the participants drawing from their on-the-ground experience to apply the concepts to their own organizations.
Most discussions take place among small groups of students clustered at round tables in flat rooms – a stark contrast to conventional lecture settings. Depending on the topic, the participants may be grouped by industry or function – or toinclude a variety of perspectives.
At a recent "morning reflections" session at Desautels, the 38 participants sat in one big circle swapping thoughts about the previous day's workshop on managing acquisitions, as Prof. Mintzberg sat quietly in the background. The freewheeling, hour-long session stretched to nearly two hours, as students analyzed what makes for
successful or failed acquisitions; shared thoughts on how to persuade employees of an acquired company to buy into a merger; related the emotional tug of a 90-year-old family business selling out to a big retail chain; and recalled a takeover that led to a protracted labour clash.
Finally, at 10 am., Mintzberg rose from his chair. "It's after 9:15," he announced to laughter. His assessment of the "self-organized" discussion: "quite extraordinary."