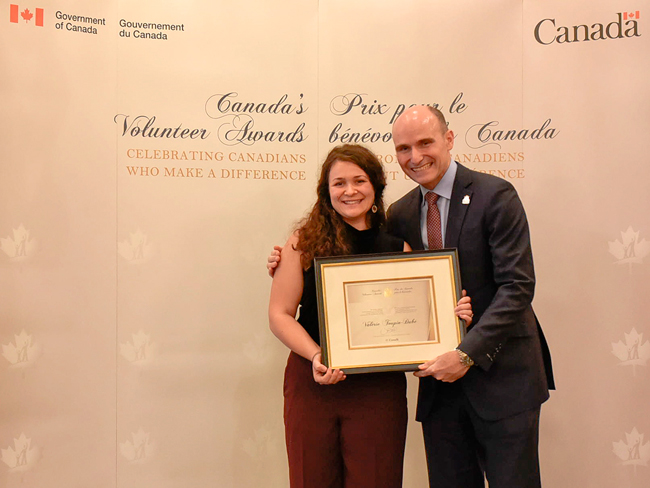 By McGill Reporter Staff
A group of inspiring citizens was honoured on Dec. 5, in a ceremony in Ottawa in which the Honourable Jean-Yves Duclos, Minister of Families, Children and Social Development, handed out the 2017 Canada's Volunteer Awards (CVA). A pair of McGill alumni, Valérie Toupin-Dubé and Lauren Rathmell, were among the recipients.
The CVA program recognizes the enormous contributions that volunteers, not-for-profit organizations and businesses across the country make to help people and their communities. The Awards highlight people working in partnerships to find new solutions to strengthen the country.
Valérie Toupin-Dubé, BSc (AgEnvSci)'16, was the recipient of the CVA's Emerging Leader Award for the Quebec region. In the CVA citation, Toupin-Dubé was praised for "taking action to improve community welfare, particularly among children, youth and vulnerable groups such as low-income families and individuals with special needs… [beginning] when she identified a lack of awareness of issues such as food security, agriculture and nutrition both locally and regionally."
While a student at McGill's Macdonald Campus, Toupin-Dubé volunteered at the Macdonald Student-run Ecological Garden, an initiative that gives students experience in agricultural production while supplying sustainable fruits and vegetables to West-Island communities and McGill students. During that time, she also co-founded the McGill Global Food Security Club, the Out of the Garden Project Café, and the Farm-to-School Project, an initiative designed to teach young people about the advantages of local food and responsible procurement.
Under the leadership of Toupin-Dubé, the Farm-to-School Project evolved from a student club to an independent nonprofit: École-O-Champ Québec/Farm to School Quebec. Today, the group works with over 20 schools and numerous farms across Quebec, offering educational summer camps and various outreach initiatives, in addition to programs that include agriculture, environment and nutrition literacy as part of the elementary and high school science and history curriculum.
"My village, Oka, has left a deep agricultural imprint on me. It formed my desire to bridge the gap between consumers and the hard-working farmers who provide us with three meals a day," said Toupin-Dubé. "As an agronomist, my commitment to children and families is to teach them where their food comes from so that they can consume better and live in a community that is more tightly knit and respectful of the environment."
Toupin-Dubé is also the Executive Director of Corbeille de Pain, a charitable organization that supports West Island communities in Montreal with food security, to create more access towards community kitchens and nutrition seminar programs. "Through her involvement with Corbeille de Pain and collaboration with partners, [Toupin-Dubé] has provided hundreds of vulnerable individuals, including young families and refugees, a basic level of food security," says the CVA citation.
Biochemistry grad, Lauren Rathmell, accepted the CVA for Business Leader (Quebec) on behalf of Lufa Farms Inc., an enterprise she co-founded in 2011, as the world's first commercial rooftop greenhouse on top of an office building in Montreal's Ahuntsic borough. The burgeoning urban farming company, is based upon a simple concept: grow food where people live and grow it more sustainably.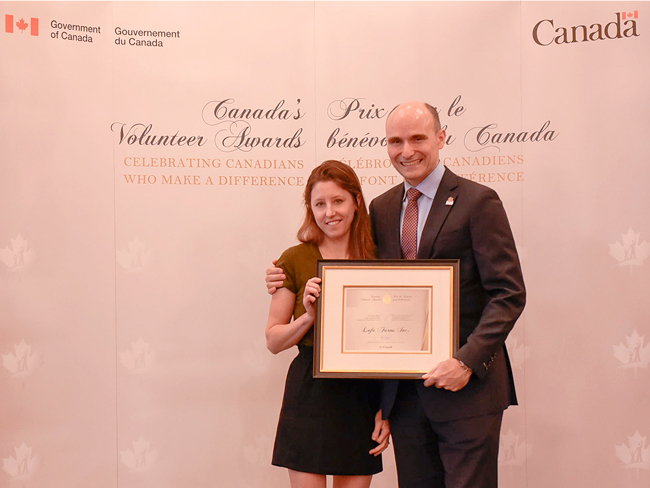 "With its mission of growing food where people live and doing it more sustainably, Lufa Farms Inc. continues to expand and build more greenhouses, using no new land, making use of rain water, recirculating both irrigation water and nutrients, minimizing energy use, composting green waste and delivering produce to customers on the same day it's harvested," says the CVA citation. "The company has served as an example over its six years of operations to demonstrate that urban farming is a commercially viable, socially responsible and environmentally sustainable way to feed cities."
Produce is grown hydroponically through a system of plastic tubing that feeds them, recycles the water and reuses it; the circulation system and microclimate are managed by computer software. Rathmell is the greenhouse director, overseeing the farming, plant-science activities and marketing.
In a 2015 interview, Rathmell said "The most important thing I learned at McGill is how to work with data. The plant science we do in our greenhouses is entirely driven by data and metrics. We have to identify what data we need and use it in creative ways. For example, using biological controls has been a challenge. To meet that challenge we developed an iPad app to show us the locations of the pests and bios — the good bugs and the bad bugs — over time, using a hot-spot map. It sounds like science fiction but it's crucial."
Check out the 2017 Canada's Volunteer Awards recipients who were recognized on Dec. 5.