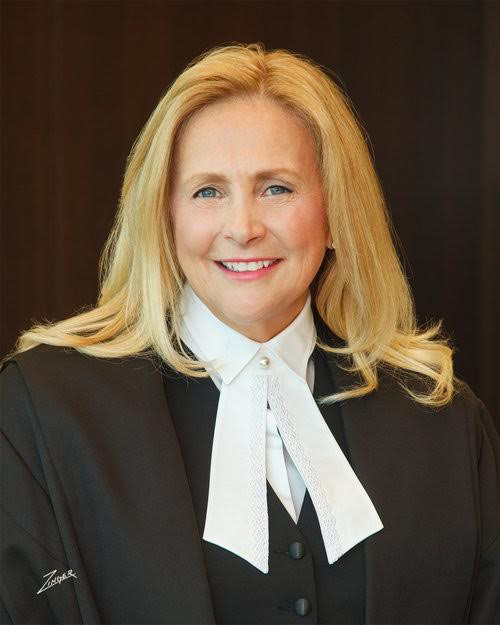 McGill Law graduate Sheilah Martin (BCL81/LLB81) has been named by Prime Minister Justin Trudeau (BA94) to replace retiring Chief Justice Beverley McLachlin on the Supreme Court of Canada. Trudeau will name a new Chief Justice next month, his office said. McLachlin is to retire Dec. 15.
Martin, 60, a bilingual Montreal native, has served as Dean of Law at the University of Calgary, as well as practising as a criminal and constitutional lawyer and serving on both the Court of Queen's Bench in Calgary and on the Courts of Appeal of Alberta, the Northwest Territories and Nunavut.
In a statement, Trudeau said, "I am confident that, with the wealth of experience she has gained over a distinguished 30-year career, she will be a valuable addition to the Supreme Court, an institution well respected in Canada and around the world for its strength, independence, and judicial excellence."
In addition to her undergraduate degrees from McGill, Martin hold a Master of Laws from the University of Alberta (1983) and a Doctor of Juridical Science from the University of Toronto (1991)
She worked as a researcher and law professor as well as a laywer and from 1991 to 1996 she served as both Acting Dean and then Dean of UofC's Law Faculty. She taught subjects that included commercial law and feminist legal theory.
In a questionnaire posted online that is part of the judicial appointment process, Martin described her pro bono work:
"My pro bono activities have been for both legal and non-legal organizations, with legal activities being the majority. For example, almost all of my speaking engagements (which are further explained below) were pro bono as was my involvement in the committees and organizations listed above. I have also volunteered for community organizations, some of which are further described below under "Community and Civic Activities.
"Additionally, as a lawyer, I provided pro bono legal service to many clients in need, however, such work often did not result in reported decisions. Three pro bono cases went to the Supreme Court of Canada. I acted for the Women's Legal Education and Action Fund in Winnipeg Child and Family Services (Northwest Area) v G(DF), [1997] 3 SCR 925 and R v Shearing, [2002] 3 SCR 33. In R v Mills, [1999] 3 SCR 668, I acted for the Alberta Association of Sexual Assault Centres. I also provided pro bono legal services to a wilderness coalition in a reported environmental law case."
Additionally, during her 20-year career as a legal educator, she "gave presentations on topics such as legal ethics, legal roles and responsibilities regarding indigenous residential school litigation, equality, violence in law, and comparative constitutional rights."
Martin's nomination not only ensures the top court will maintain a full nine-member bench after McLachlin – the country's longest-service Chief Justice and the first woman to hold the post – steps down, but it also maintains the Court's current gender makeup  of four women and five men. She will join fellow McGill alumnus Justice Clément Gascon (BCL81), who graduated with a BA in Civil Law the same year as Martin.
In the online questionnaire, Martin also spoke about a variety of presentations she prepared in connection with the National Judicial Institute.
"I have also given presentations and prepared educational documents on topics such as Rape Myths and Stereotypes; Safety and Security of Women; Roles and Responsibilities after the Truth and Reconciliation Report; Balancing Rights in Sexual Assault Trials; Making Credibility Determinations; How to Prepare for Oral Judgments; Equality Analysis under Section 15 of the Charter; Good Judgment; Judicial Method and Decision-Making; Sentencing; Culture in Legal Institutions and Courtrooms; Environmental Class Actions; Social Context Education; the Charter; Equality Rights under the Charter; Sections 15 and 1 of the Charter, among many others."
According to a release from the Prime Minister's Office, MPs who are members of the House of Commons' Standing Committee on Justice and Human Rights will participate in a special hearing during which Justice Minister Jody Wilson-Raybould will explain the selection process and provide reasons Martin was nominated.
Martin's husband, lawyer Hersh Wolch, who was known for his advocacy on behalf of wrongfully convicted Canadians including David Milgaard, died of a heart attack in July at age 77.