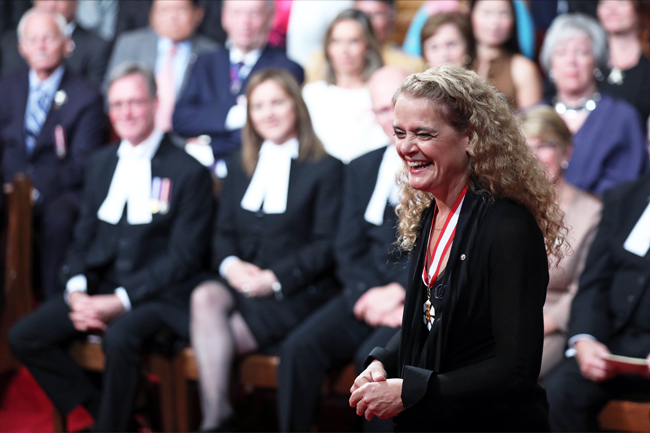 By McGill Reporter Staff
Former astronaut and McGill grad Julie Payette (BEng86) was installed on Oct. 2, as Canada's 29th Governor General. Payette follows David Johnston, who was Principal of McGill from 1979 to 1994, and who served as Governor General since 2010.
The installation ceremony was held in the Senate chamber in the Centre Block on Parliament Hill.
Payette told an audience of family, astronauts, politicians and dignitaries that "anyone can accomplish anything and rise to the challenge as long as they are willing to work with others, to let go of the personal agenda, to reach a higher goal and to do what is right for the common good. This is exactly what I hope my mandate as the Governor General will reflect."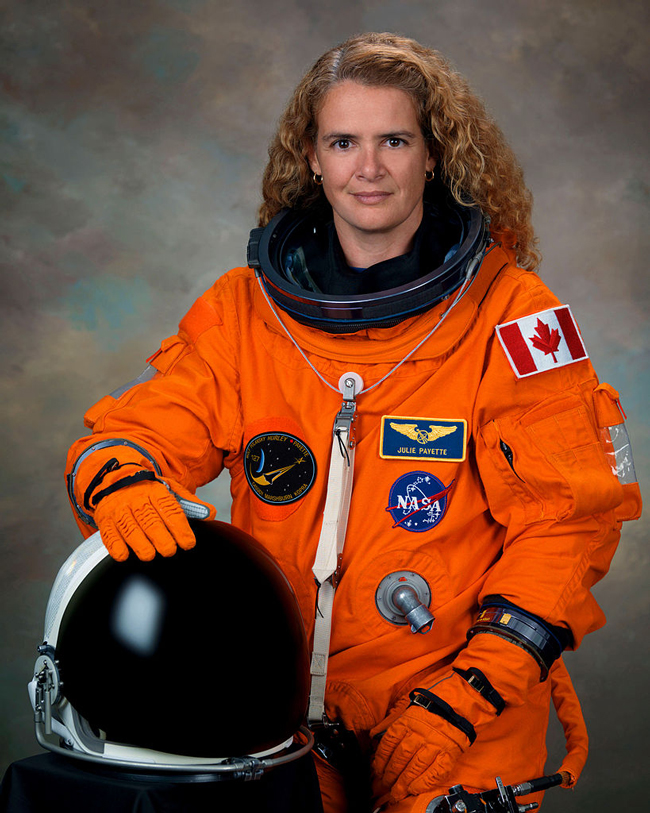 "I'm a true believer in the strength of teamwork, in the power of dreams and in the absolute necessity of a support structure," she said, noting that we all share "the same planetary spaceship."
Payette's focus on teamwork, and career as an astronaut, are reflected in the new Governor General coat of arms, which includes a pair of Canadian lynx standing on a borderless Earth, feathered wings and the motto "Per Aspera Ad Astra":  "Through hardship to the stars."
"Her Excellency's knowledge, determination, and curiosity about the world around her led her to achieve her dreams – and in doing so, she showed a whole country that their dreams were within reach, too," said Prime Minister Justin Trudeau (BA94) in an announcement following the installation ceremony. "Above all, Her Excellency represents the very best of what it means to be Canadian. She embodies dedicated service and a commitment to integrity. In her new role, she will continue to do vital work to promote our unique Canadian identity. She will travel to communities across the country to discuss with Canadians the issues that matter to them and to honour those who demonstrate exceptional service to their communities and our world."
"Ms. Payette is one of Canada's most remarkable and accomplished citizens, and her appointment to the position of Governor General of Canada is wonderful news for our country," Johnston said when Payette was named as his successor on July 13. "It's a function I've been so privileged to hold for the past seven years, and I am certain that she will fulfil this role with intelligence, grace and energy, and that she will bring qualities of curiosity, courage and compassion to her mandate."
"We're delighted that another McGillian has been named to be Canada's Governor General. Julie Payette has exemplified the determination, dedication and generosity required of such a position and has accomplished so much in her illustrious career as Canada's second woman in space," Principal Suzanne Fortier said. "I am sure all members of the McGill community join me in congratulating her on her appointment and on wishing her well as she takes up these important duties. Bravo!"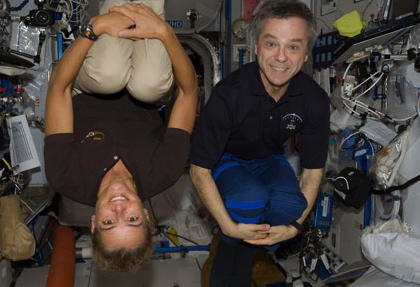 Any Governor General has a special relationship with McGill; the person holding the vice-regal post is automatically the University's official "Visitor," a little-known role that dates to the Royal Charter of 1852, under which McGill operates. At the time of the Charter, the Governor of Lower Canada was appointed as the Visitor, a role that since Confederation has been played by the Governor General of Canada. The post is ceremonial; although the Visitor does have the power to disallow University statutes, that power has never been exercised.
McGill awarded Payette an honorary degree in June 2003, one of 27 she has received during her illustrious career. She is also an active member of the Faculty of Engineering's Faculty Advancement Board, and has been on the board since 2013.
A 53-year-old Montrealer who speaks six languages, Payette, Canada's second woman in space, will become Canada's 29th Governor General and the fourth woman to serve in the office. She is expected to emphasize the importance of education, particularly in science and technology programs.
The McGill Reporter caught up with Payette a few years ago when she came back to the University to take part in the Women in Science, Engineering and Medicine Symposium.
"I'm an engineer through and through," Payette said in 2012. "I'm a doer and a let's-put-it-together-type of person who loves to solve problems with existing solutions or devise new solutions for concrete problems. I don't spend much time worrying about things that don't work. I fix them."
Asked what obstacles has she faced over the course of her illustrious career in predominantly male-oriented fields (she's an engineer, a military pilot and an astronaut, to name but a few of the items on her impressive CV), Payette paused to think.
"When I went to my pre-university physics classes and my engineering classes at McGill, I was often the only girl," she says. "But I don't remember thinking much about the [negative] side effects [of being a woman]. I knew I was where I belonged."
On May 27, 1999, Payette found herself on a seat aboard the Space Shuttle Discovery as it was about to be launched for its nine-day, six-million-mile journey to the International Space Station.
And, after all those years working toward this single goal, what was Payette thinking during the countdown to takeoff from the Kennedy Space Center in Florida?
"It was not very romantic," she says with a laugh. "An astronaut has to be very focused – even on the day of your first ever departure to space. There is no room for error and your biggest fear is to not do the job that you've been trained to do. My only thought was on achieving my immediate objectives, which, as soon as we got into space eight and half minutes later, meant controlling the system to open the cargo bay doors of the space shuttle which are vital to cool down the electrical system.
"Even when the windows doors opened and I got my first glimpse of the absolutely magnificent view of Earth orbiting at my feet, I didn't stop and say 'somebody pinch me' because I was busy checking at my instruments," says Payette. "It was only further into the mission that I really started grasping the immense privilege it is to fly and to see the Earth from that wonderful perspective."
Ten years later, Payette would return to space, this time as the flight engineer on the crew of the Space Shuttle Endeavour on the 29th Shuttle mission to the International Space Station. The 16-day mission included travelling 10.5 million kilometres in 248 orbits around the Earth.