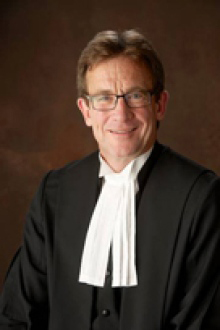 By Doug Sweet
One McGill graduate has replaced another on the Supreme Court of Canada.
Prime Minister Stephen Harper named Mr. Justice Clément Gascon (BCL81) to the nation's highest court Tuesday, replacing Mr. Justice Morris Fish (BA59, BCL62), who retired last August after a decade on the Supreme Court.
Gascon, who spent 21 years with Montreal's Heenan-Blaikie law firm, specializing in civil and commercial litigation, has sat as a Quebec Court of Appeal judge since October 2012.
He has also been a lecturer at McGill, among other schools.
"Mr. Justice Gascon's wealth of legal knowledge and experience will be of significant benefit to this important Canadian institution," Harper said in a statement. "His appointment is the result of broad consultations with prominent members of the Quebec legal community."
"Mr. Justice Gascon is widely recognized in Quebec as a very smart, diligent and hard-working judge. His credentials and expertise are impeccable," said Daniel Jutras, Dean of the Faculty of Law. "Like his colleagues on the Quebec Court of Appeal, he is a brilliant generalist. He has had to deal with the entire range of issues that make their way to the Supreme Court, so I have no doubt that he will hit the ground running in all areas, from constitutional law to civil law, and from criminal law and Charter issues all the way to administrative law."
Gascon's appointment closes the book on a controversy that blossomed after Harper tried to appoint Federal Court judge Marc Nadon to replace Fish last October. That attempt was thwarted by a legal challenge and an eventual ruling in March from the Supreme Court itself that Nadon was ineligible as he was not a member of the Quebec bar, nor was he from a Quebec court. Three of the nine members of the Supreme Court must be from Quebec in recognition of the province's distinctive civil law tradition.
Gascon was appointed to the Quebec Superior Court in October 2002, as a member of its Commercial Division in Montreal. He served as co-ordinating judge of that division from 2007-11. He has also been the co-chair of the annual Canadian Institute for the Administration of Justice Judgment Writing Seminar for newly appointed federal judges and frequently participates as a speaker in legal education seminars on commercial matters, judgment writing and class actions.
According to Pierre-Gabriel Jobin, Wainwright Emeritus Professor of Civil Law and one of Gascon's professors at McGill, the Supreme Court appointment was an inspired one. "Justice Gascon was a student of mine in Contract Law and I also coached him for the Pierre-Basile Mignault mooting contest," said Jobin. "In class, we seldom heard his voice because he never needed to ask any questions; and yet, he still received the highest mark in the class on the final exam. At the Mignault contest, he'd had no previous experience in the art of mooting and advocacy, but he put so much effort into developing his skills that he won the trophy for best pleader. When it comes to work, he's like a very talented marathon runner."