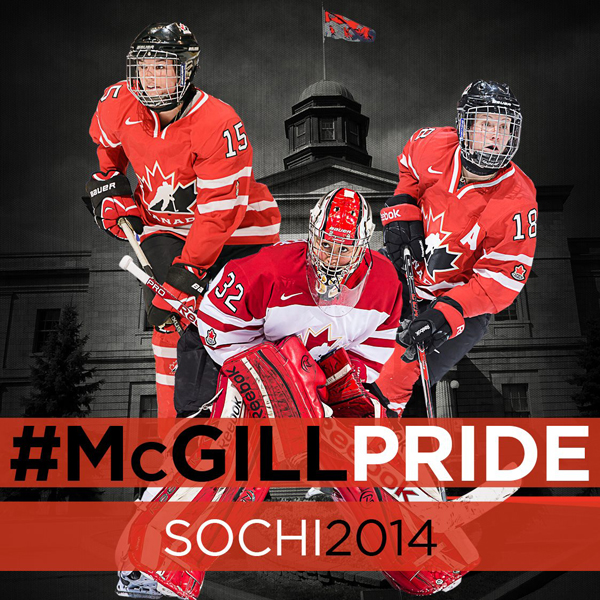 By Doug Sweet
Nail-biter. Heart-stopper. Amazing. Unbelievable. Story book. The adjectives flew thick and fast Thursday afternoon as a nation in the throes of gold medal fever watched the Canadian women's hockey team battle back from a two-goal deficit in the third period to win it all in overtime.
Three McGillians – Mélodie Daoust (who hails from St-Timothée, the same South Shore village as Principal Suzanne Fortier), Catherine Ward and Charline Labonté – are members of the Canadian squad, which won this country's fourth straight Olympic gold medal in women's hockey.
In addition to the dozens and dozens of McGill employees and students who gathered around computer and TV screens in offices and kept a close eye on their smartphones early yesterday afternoon, a crowd of about 100 people gathered in Tomlinson Hall next to the Currie Gym to watch the game on a big-screen television.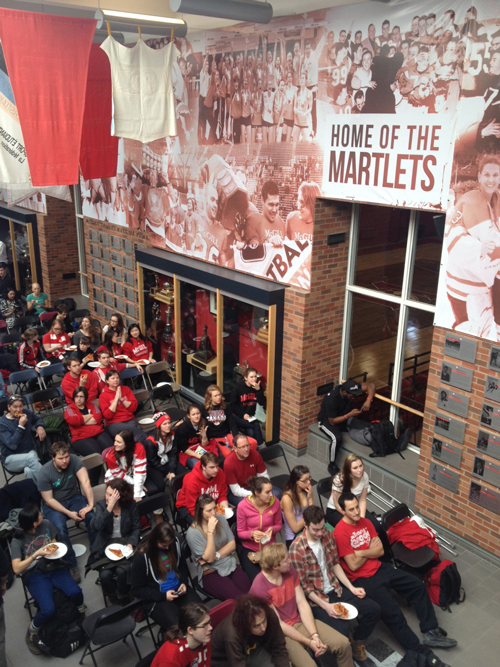 A similar set-up will be in place for Friday's men's semi-final between Canada and the United States, starting at noon, and all are welcome.
But will be hard to top Thursday's game for high drama. Not only was the plucky Canadian squad down by two goals until there was only a little more than three minutes left in the third period, they almost lost it on an empty-netter.
After Canada pulled within one with 3:26 to play, goaltender Shannon Szabados was pulled in favour of an extra attacker. Soon after, an American shot from their side of centre drifted down toward the empty Canadian net – and bounced off the post.
Marie-Philip Poulin potted the tying goal with only 55 seconds remaining in the game and then it was on to overtime. Eight minutes and 10 seconds into OT, Poulin, a native of Quebec City, got the winner.
And a little icing on the cake for the McGillians? Their gold medals were presented by former McGill Chancellor Dick Pound.
Way to go, indeed.