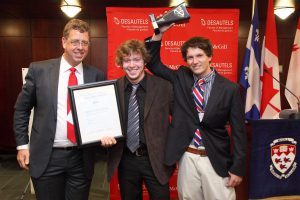 By Chris Chipello
A T-shirt retailer that aims to help lift developing-world artists out of poverty and a not-for-profit laundry service designed as a transitional employment program for Montreal's homeless are the top prize winners in McGill University's 2011 Dobson Cup business-plan competition.
The Dobson Cup provides an annual opportunity for budding entrepreneurs to showcase their ideas for business and not-for-profit startups. The contest is hosted by the Dobson Centre for Entrepreneurial Studies at McGill's Desautels Faculty of Management, with support from National Bank Financial Group and Business Development Bank of Canada.
The first-prize winner in the "For Profit" category for 2011 is Moral Fibers, a T-shirt business that plans to print shirts designed by artists in developing countries. The business was co-founded by two undergraduates in McGill's Faculty of Agricultural and Environmental Sciences, Matt Brightman and Martin Weiss, after they visited Haiti in the aftermath of the 2010 earthquake to help with humanitarian relief efforts.  Moral Fibers already has reached deals with artists in that country and plans to reach out to others in Africa and Central America.
With each purchase of a Moral Fibers T-Shirt, part of the proceeds will go to the artist and another portion to a charity or school in his or her hometown. "Buying a Moral Fibers product is not only an investment in your wardrobe, but an investment that builds the human capital of an artist in the developing world," according to the company, which launched its website on June 10.
Second-place in the for-profit category went to Infinity Blades, the brainchild of materials-engineering undergraduate John Kline, who cooked up the idea of producing high-tech engineered scissors after his barber complained to him last summer that he had spent $500 on a pair of scissors and still had to pay $25 twice a year to get them sharpened. Kline, who was training as a propulsion and repair engineer at a Montreal aerospace maintenance provider, got to thinking about using advanced coatings to increase surface hardness and blade life for barber scissors – and developed the business proposal with classmates in a technological entrepreneurship class.
Third-place went to Teabean Coffee, a fledgling company started by Craig Buntin, a Desautels MBA student and former Olympic figure skater. Years of caffeine-fueled early-morning workouts led to Buntin's interest in unusual coffee variations, including one he calls White Coffee beans, made from baked – rather than roasted – coffee beans. The firm's Teabean Latte product is already available at several outlets in Montreal.
In the "Not For Profit" category, first prize went to Streetsuds, a laundry service designed to advance the mission of Montreal's St. James Drop-In Centre, which helps marginalized and homeless people meet basic needs.  This social enterprise would address the physical and mental health challenges of its workers, while enabling them to develop skills that can be transferred into mainstream employment.   "If we are able to fundraise the remaining 20 per cent of our startup costs by July, we aim to open Streetsuds in fall 2011," said Danica Straith, the Centre's Creative Arts Coordinator.
Second place among the not-for-profit candidates went to EDUKids, an organization that would provide free tutoring services to struggling elementary-school students in the Montreal neighbourhood of Côte-des-Neiges. EDUKids plans to pair student volunteers from a private high school with primary school students from low-income households. "This project model has very low costs and is therefore easy to replicate pretty much anywhere," said Imran Benris Tourigny, a Desautels student who grew up in Côte-des-Neiges and would be a member of the organization's management team.
All entrants in the Dobson Cup benefit from the competition, as the panel of distinguished judges – composed primarily of McGill alumni – offers recommendations to help advance each start-up idea.
The 2011 competition attracted plans from 58 groups – up sharply from 38 last year and 18 in 2009, the first year.