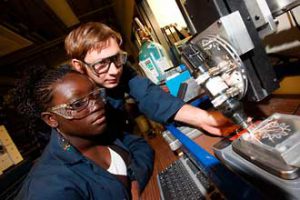 By Cynthia Lee
When Christophe Pierre began as Dean at the Faculty of Engineering in 2005, the faculty suffered from a worrisome trend of diminishing graduate applications. Pierre made it one of his priorities to reverse that trend.
Enter the McGill Engineering Doctoral Awards, better known as MEDA. Aiming to recruit the best and brightest new doctoral students from all over the world, the faculty launched MEDA in 2006 by sponsoring 28 awards. This academic year, there are 75 new MEDA awards that are worth almost $5-million over the three years of the awards.
Andrew Kirk, Associate Dean for Research and Graduate Education who now manages the unique "blended" award program remembers the genesis of MEDA. "When Dean Pierre first envisaged how to jump-start grad applications, we looked at what our competitors were doing, and noticed that McGill was coming up short when it came to funding the PhDs," said Kirk. "When you start getting the reputation for not having adequate graduate funding compared to other elite schools, word spreads quickly, and the top applicants inevitably accept elsewhere.
"By revamping the funding financing structure, we created a novel way to offer the top applicants a very attractive funding package to attend McGill."
Today, MEDA recipients are given $22,000 per year, guaranteed for three years. The funds come from a mix of sources including the faculty itself, departments and funding from individual professors' research grants. Engineering is the only faculty to offer such funding at the University.
Once implemented, word of the program spread quickly. "In 2006, we planned a graduate recruitment initiative which targeted significant increases in new PhD registrations, aiming for 100 students in 2007, 125 students in 2008, and 150 new PhD students in 2009." said Kirk. "I'm very happy to say that we have achieved these objectives. The numbers are impressive with 172 new PhD students registered during the 2009-10 academic year, well above the target of 150. This represents a 115 per cent improvement over the faculty's low point of 80 new PhD students in 2006-07."
Last fall the faculty achieved an all-time record with the enrolment of 1,009 graduate students. The upward trend has continued this semester with a final enrolment of some 1,066 graduate students.
Kirk also points out that the push for more students is not a quantity-over-quality equation. "It's also important to note that these gains in numbers have been achieved without any reduction in student quality," he said. "In fact, on average the entering CGPA of graduate students has even increased slightly.
"The faculty has also revised the dates for graduate applications and streamlined this date among all the departments," continued Kirk. "By advancing these dates, we're able to make our offers sooner to the applicants and ensure they receive our offer first. It sounds simple, but studies show that students are more likely to accept the first offers they receive."
Due to the success of the program, the competition for MEDA spots was fierce again this recruitment season. It all culminates March 25-26 with the fourth MEDA recruitment weekend where prospective recipients from all over the world are invited to visit McGill, meet their potential supervisors, participate in panel sessions and learn more about life at the University.
"The MEDA weekend has typically been a great event for both prospective students and professors," said Kirk. "After the long acceptance process we finally get to meet these amazingly talented students. And our success rate is remarkable, about 90 per cent of those who attend, choose to come to McGill Engineering."
For more information about the MEDA program go to www.mcgill.ca/engineering/graduate/funding/meda/