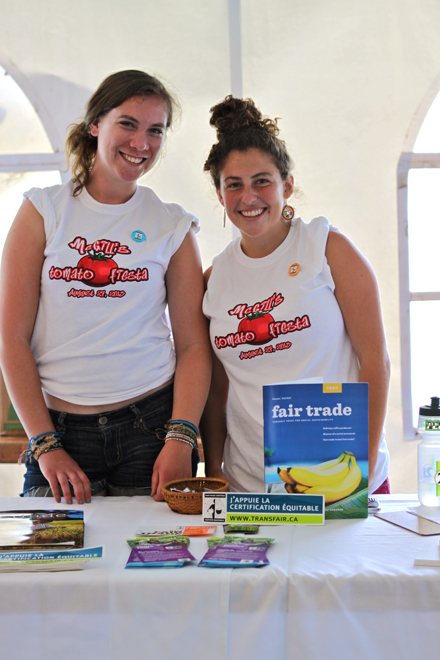 By month's end most coffee, chocolate sold on campus will be Fair Trade
By Victoria Leenders-Cheng
Aficionados of coffee, chocolate, or both – and really, that should include just about everyone—listen up. You can now get your caffeine or chocolate fix on campus while also soothing your conscience.
This summer, McGill received Fair Trade Canada's official designation as a Fair Trade campus. By the end of September, all coffee sold by University- or student-run stores, vending machines, residences and cafeterias will be Fair Trade certified. Fair Trade certified tea and chocolate will always be available for purchase at these locations.
Fair Trade products, which aim to build sustainable long-term trading relationships with farmers and artisans that benefit all parties, "have already been available across campus in varying degrees," said Oliver de Volpi, Executive Chef, Operations and Sustainability, for Student Housing and Hospitality Services (SHHS).
Working in tandem, SHHS and McGill's chapter of Engineers Without Borders (EWB) sought to ensure that all the food providers and student groups on campus, including the Students' Society of McGill University and the Post-Graduate Students' Society, complied with the Fair Trade criteria. All University- or student-run food service outlets (excluding national chains such as Tim Hortons or Subway) must only sell Fair Trade coffee and must also sell at least three Fair Trade teas and one Fair Trade chocolate option, said de Volpi.
Student groups around the University were very enthusiastic about the initiative, said Engineers Without Borders McGill chapter VP of Fair Trade Jessica Hoch. "EWB Canada aims to eradicate poverty through systemic change and investing in people," she said. "The Fair Trade Campus designation is a concrete, sustainable way of partially meeting this goal."
Hoch hopes this enthusiasm gains momentum as a result of the designation. "We want to establish ways to effectively promote Fair Trade products through increased availability on campus," she explained.
Throughout the week of Sept. 23, SHHS and EWB will celebrate the Fair Trade designation by handing out coffee and chocolate at student residences and selling $0.99 fair trade coffee all over campus. As well, the SHHS and EWB are working towards offering an even greater number of Fair Trade items, such as bananas, sugar and cotton t-shirts sold at McGill. "These items are less known for fair trade than coffee and chocolate but they will increase the value of our Fair Trade designation and emphasize our commitment to this initiative," said de Volpi.
What's so fair about Fair Trade?
Fair Trade products aim to build meaningful long-term trading relationships with farmers and artisans by paying them in accordance with principles of fairness and decency – usually by paying a better price for products, but also by ensuring safe labour practices and ecological and sustainable measures of production.