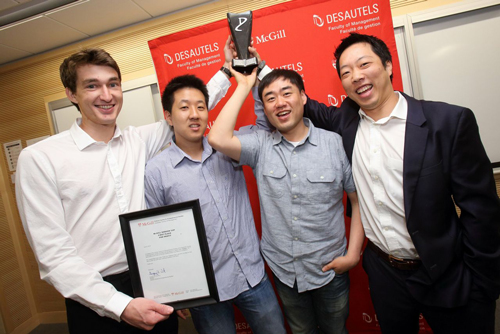 By McGill Reporter Staff
Move over, Lord Stanley. There's another prestigious cup in town.
And while the winners of the McGill Dobson Cup weren't sporting playoff beards, there were plenty of jubilant smiles as Grant Yim and his teammates hoisted the trophy at the recent awards ceremony capping the annual competition for budding entrepreneurs.
Yim is the co-founder of Hypejar, a start-up online social platform where consumers dictate the level of anticipation, or "hype," for products before they hit the market. After nearly two months of competing, Hypejar won the $10,000 top prize in the for-profit category of the 2013 McGill Dobson Cup Start-Up Competition, hosted by the Dobson Centre for Entrepreneurial Studies at the Desautels Faculty of Management.
"From the conception of the idea, we've cultivated a very big vision of radically disrupting a recent trend in consumer behaviour to eventually accurately forecast future sales. Winning this competition has served as an awesome validation for our model and has injected further inspiration to allow us, as consumers, to take back something that rightfully belongs to us, to dictate levels of anticipation as opposed to having it be decided by brands and ad agencies," said Yim, a 2003 BCom graduate.
The goal of the McGill Dobson Cup is to provide entrepreneurs with the chance to develop their skills and present their business ideas to a panel of seasoned corporate experts while competing to win valuable start-up money for their enterprise. The judging focuses on the venture's innovative qualities, viability, and growth potential.
"What really sets the McGill Dobson Cup apart from any similar competitions are the calibre of the judges, our mentorship program which matches each team with a business leader, and the way that the competition feeds into our Faculty's academic curriculum," said Professor Gregory Vit.
Professor Vit is the Director of the Dobson Centre for Entrepreneurial Studies, a resource hub for McGill students, faculty, alumni, and aspiring entrepreneurs in the greater Montreal region. The Centre is also responsible for developing the core courses in the minors and concentrations in Entrepreneurship at the Desautels Faculty.
"We have transformed the way we teach entrepreneurship to our students, by encouraging them to learn from doing things, not just from theory," said Professor Vit. "The McGill Dobson Cup is a prime example of the way we teach aspiring entrepreneurs what it takes to succeed. It's also a fantastic networking opportunity."
Yim can attest to the networking benefits: "Our team has had the privilege to meet with so many successful entrepreneurs during this competition, who were also involved as judges. They have and continue to be incredible mentors in our path to success. I've already been able to establish loads of contacts stretching as far as San Francisco. These connections would not have been possible without the incredible initiative that is the McGill Dobson Cup."
This year's winners emerged from a pool of 234 applicants and 94 teams, representing two tracks: for-profit and social enterprise. Almost 70% of the submissions came from McGillians in fields of study outside of Management, including Science, Law, Music, Engineering, Medicine, Computer Science, and Arts.
Second-place in the for-profit category went to TemperPak, a light-weight, powerfully insulating, environmentally-friendly shipping container for temperature-sensitive medical materials.
Third-place winner, EG Micro, proposes a unique technology, the "lab-on-a-chip," that offers a competitive alternative to existing single-cell DNA sequencing processes. This technology has diverse applications in the life-sciences industry, including cancer research, point-of-care diagnostics, and analytic devices.
Tied for first place in the social-enterprise category were Decode Global, which develops mobile games for social impact in the North American and Indian markets, and Sanitru, an organization dedicated to reducing the incidence of drug errors by enabling health-care practitioners to accurately and efficiently identify pharmaceutical packages by both sight and touch.
"I see no reason why the next Google or Facebook can't come out of McGill University," said Dobson Cup judge Chris Haroun, Partner at Artis Ventures, a venture-capital firm based in the San Francisco Bay area. "The calibre of the McGill students I have met with over the past few months in Montreal and their business models are at least as promising as the many Stanford students and alumni I meet with and their respective business models. The Dobson Cup is the ideal platform to promote the promising ideas of current and former McGill students domestically and globally."
The McGill Dobson Cup business plan competition is open to students, staff, and alumni of McGill University. For more information, click here.