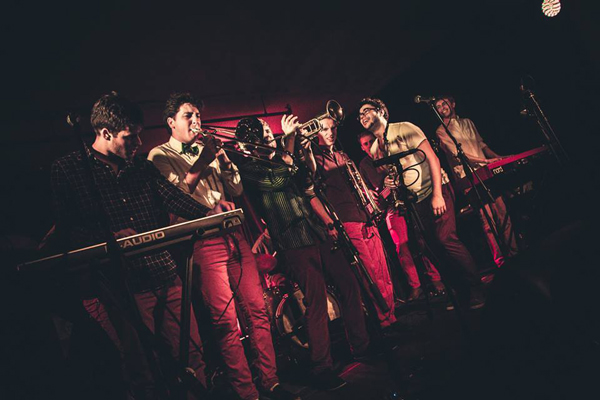 By Neale McDevitt
And then there were 10.
As announced on Oct. 17, Busty and the Bass, the increasingly popular, nine-member electrofunk band comprised entirely of musicians from the Jazz Performance program of the Schulich School of Music, has made it to the semi finals of CBC Music's Rock Your Campus contest. The competition, a nationwide talent search looking to discover the "next big campus music act," is open to anyone enrolled at a Canadian university.
With Busty having made it to the Top 10, band members have just one thing to say; "Thank you everyone at McGill. We couldn't have made it this far without your support."
Specifically, that support has come in the form of votes. Leading up to the finals, each phase of the contest has been decided by a public vote. For the semi finals, people can vote for Busty and the Bass once a day until midnight on Thursday, Oct. 23. Once the results are tabulated, the field will be trimmed to five finalists.
From there, a panel of celebrity judges will chose the winner, based upon such criteria as general impression; quality of music and lyric composition; quality of musical performance; and highest number of public votes. The winner will be announced on Monday, Oct. 27.
The top act will receive, among other things, a $10,000 grand prize and a concert performance on campus paid for and produced by the CBC.
The money, says Milo Johnson, the band's bassist, "will go a long way toward a tour bus," but the real incentive is the concert. "Playing a big concert at McGill would be huge," he says. "We've been the closing act at the Open Air Pub the past two years, so we've played on campus before. But this would be incredible."
Although the band has been together for three years, since most of them met as freshmen during Music Frosh, things have gotten really serious over the last several months.
"It's been pretty much a crash course in everything," says Johnson, with a laugh "A crash course in how to record a song and put together a video in three days. It was the first time we were on the news, the first time doing interviews, the first time reaching out to our friends, family and fan for support and the first time putting out an EP. We've never done any of this before, so it's kind of learn as we go."
Johnson says the band has used contest as a catalyst "for doing the things we should be doing anyways.
"Especially for jazz guys coming from music school, the idea of a competition is very foreign and not always what everyone is looking to get out of music," he says. "We believe that structure and deadlines spur creativity, and we're all very happy with the end result – our video."
That video, Tryna Find Myself (you can watch it at the end of this article), is a high-energy blend of brass, keys, synths and vocals that will give you the urge to get up and dance. Just ask Principal Suzanne Fortier, who makes a cameo dance appearance in the video – something that was entirely spontaneous and unscripted.
"We were shooting in front of the Arts Building when she happened to walk by on her way to a concert [at the Schulich School of Music]," says Johnson of the chance encounter. "When she came over, I honestly thought we were in trouble and that we weren't allowed to film there.
"But she was just interested in what we were doing and when we asked her if she wanted to be in the video, she was totally down with the idea."
The video, shot entirely on McGill's downtown campus by local production company Landlocked Cinema, also features performers from two McGill dance groups – Urban Groove and the McGill Student Street Dancers.
When asked how he feels Busty's song stacks up against the rest of the competition, Johnson admits he hasn't really scouted the other bands. "If you're looking at the competition to get ideas for what you should be doing, you're not going to be making anything original," he says. "We make music that we want to hear and we tell stories that we like to tell. That's good enough for us."
Vote for Busty and the Bass here by clicking on the blue button halfway down the page that says "Vote For This Artist." Don't forget, you can vote once a day until Thursday, Oct. 23, at 11:59 p.m. Every vote counts!
Go to the band's website here.
Download Tryna Find Myself for free here. And, if you really like Busty and the Bass' music, download their new EP Bustified for free here.
https://youtu.be/hXjT5RlQuAw